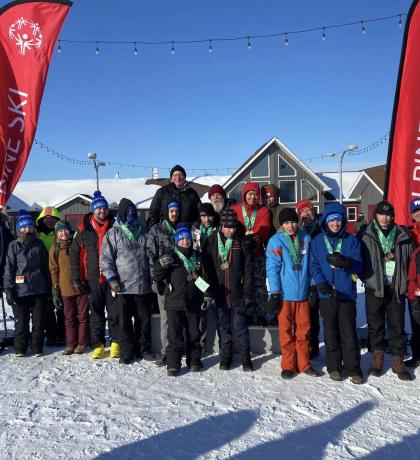 Special Olympics Manitoba held its 2023 Winter Games in Winnipeg and hosted Special Olympics Saskatchewan teams in two sports: Alpine Skiing and Snowshoeing. Alpine skiers from Special Olympics Regina, and Snowshoer's from Special Olympics Saskatoon made the weekend journey alongside coaches and mission staff from Regina, Saskatoon and Swift Current.
The alpine skiers took on Springhill Winter Park and put on quite the show. The four Regina athletes all came home with three medals each. Over at the snowshoe track, our crew did not let the cold slow them down. All five of the Saskatoon athletes finished in medal positions in at least one of their events. 
Alpine Skiing Results:
Taylor Barth - 2 Gold Medals & 1 Silver Medal
Shea Mueller - 3 Gold Medals
Michael Qing - 2 Silver Medals & 1 Bronze Medal
Steven Gass - 2 Gold Medals & 1 Silver Medal
Snowshoeing Results:
Madalyn Gramiak - Gold (100m & 200m)
Greg Donaldson - Gold (200m & 400m)
Mark Beatty - Gold (100m) & Bronze (400m)
Austin Gutting - Gold (400m)
Jordan Vassell - Bronze (200m)
Thank you to Special Olympics Manitoba for hosting and providing a great competition for our teams. Thank you to Coach Rick Sanden, Coach Eric Lautsch, and Mission Staff Rachelle Foster and Jackie Powell for all your efforts leading up to (and during) the competition. Special Olympics Saskatchewan was represented well by both groups. Congratulations to all 9 of the Saskatchewan athletes who competed!