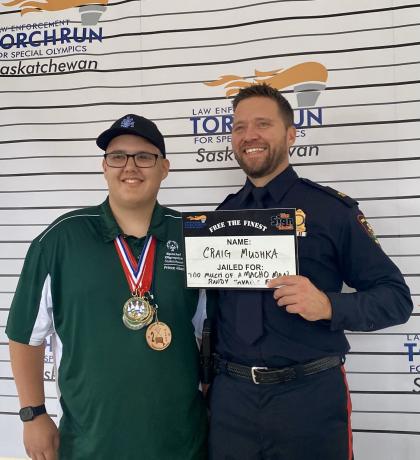 The Prince Albert community helped "free" the finest with the first annual Free The Finest LETR fundraiser!
On Thursday, August 31st, Law Enforcement Officers came together with Special Olympics athletes in Prince Albert to put on the first annual Free The Finest fundraiser. Athletes and officers joined forces to "detain" individuals, bosses, business owners, and family across Prince Albert to help spread awareness and raise money for Special Olympics athletes in the province. In only 5 hours, PA LETR members and athletes raised just under 20 thousand for Special Olympics athletes across the province!!
Participants willingly submitted themselves to being "arrested" and placed in "jail" until their fundraising goal was met. All of the participants, officers, athletes, and volunteers brought high spirits, energy, great music recommendations, and jokes. Athletes took their role's very seriously as they monitored the detainee's in "jail" and assisted in placing arrests. The Knights of Columbus also brought the heat with the BBQ - selling hotdogs, chips and pop! All funds raised from the BBQ and the event go directly back to supporting SOS athletes.
A big thank you to all the LETR members, SO volunteers, and athletes who helped throughout the day. Thank you to all of the incredible sponsors, and of course, the participants for allowing this fundraiser to happen. Through everyone's support, you helped us make this another successful event!
To see the full event through pictures, make sure to visit our Flickr Page!
If you are wanting to get involved in the Saskatchewan Law Enforcement Torch Run, make sure to visit the following website: