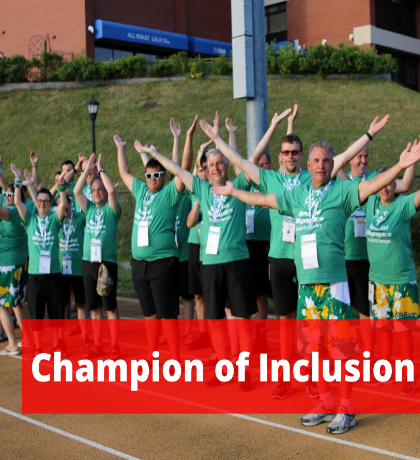 A Champion of Inclusion is someone who lives and breathes the "Choose to Include" mission every day of the year! This is the Special Olympics International definition: 
Champions of Inclusion are the people - with and without intellectual disabilities - leading the charge for respecting and embracing ALL abilities
We asked you, our membership, to nominate those in your community that you feel represent the Choose to Include mindset. We want to take time here to recognize all of our amazing nominees on their outstanding efforts in living a life, choosing to include. 
Jackie Powell
Jackie (on the right) is a Special Olympics Saskatchewan swim coach from Swift Current, who has also been a coach on Special Olympics Team Canada. Jackie is really a true Champion of Inclusion. Not just for people with special needs, but in all aspects of inclusion. Tammy Zimmer nominated Jackie with saying, "having a child who is also a member of the LGBTQ community, I have seen the positive impact she has played on Tate's (on the left) life. I can't imagine a more deserving person for this award".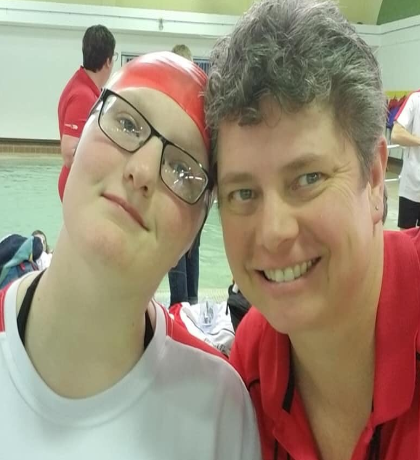 Brenda Baker
Brenda is the direct and founder of Kids of Note and the Notations choirs in Saskatoon. The choirs' mandate is all-inclusive and has singers of all abilities. Brenda was on CBC radio on July 1st as her choir sang "O Canada" as a quarantined choir. You are able to see how wonderful it is to include signers of all ages, abilities, shapes, sizes, colours and backgrounds on their Kids of Note website. Brenda was nominated by Fay Dixon, whose son Drake Dixon, who is a part of the choir and also a Special Olympics athlete. Fay writes in Brenda's nominations, "my son, Drake Dixon, has been singing with them for years. He has Autism and has never been labelled as that. He is just known as the boy with a great voice, many thanks to Brenda. There would be more people like her in this world and I'm thankful that she is in our very own Saskatoon community"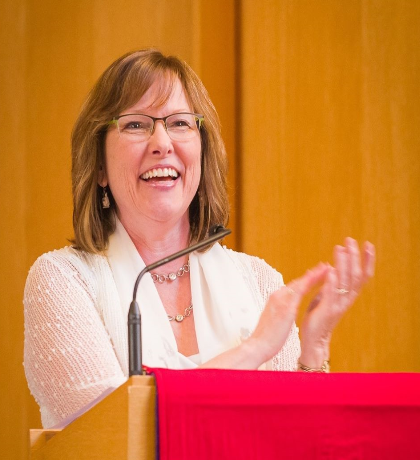 Shari Debsler
Shari is a multi-sport Special Olympics athlete who trains with Special Olympic Saskatchewan Unity & District. Shari is mindful and considerate of everyone around her. She offers help to people who seem hesitant or are new to a situation. She is a natural mentor in a sports setting. Shari works to ensure everyone feels included, welcomed and cared for. An example of this is the extensive Christmas card list she undertakes every year. From her newspaper clients to her co-workers, friends and family, Shari hand-delivers cheerful sentiments, ensuring she has thought of everyone. 
Tara Hurdman
Tara is an Educational Assistant at Neilburg Composite High School, also a fan and supporter of Special Olympics Saskatchewan Unity & District Powerlifting program. Tara drives over 70lm each way to ensure an athlete is able to attend each training session. Tara encourages and cheers everyone on the team. She also ensures to take time to speak with and listen to all supports, volunteers and participants. Tara has a way of drawing people in. making everyone feel welcome and included in her presence.
Lindsey Barber
Lindsey is the owner of Fitness Lair in Unity, Saskatchewan. Since 2016 she has provided Special Olympics Saskatchewan Unity & District Powerlifting with a large, bright, safe, accessible and well-equipped facility to train out of. Despite a busy class calendar for gym times, Lindsey sets aside prime-time blocks each week for the Powerlifters to have the opportunity to work with their coach and build their fitness. Lindsey has a welcoming and inclusive demeanour. Inviting athletes of all ability to learn, grow and work on their own fitness goals, in a no-judgment-zone gym community that she has created. 
Brooklyn Danbrook and Maddie Renwick 
Brooklyn and Maddie were students at Greenall High School in Balgonie, Saskatchewan. They were both nominated by Jana Toth, the Student Services teach at Greenall High School. This is what Jana wrote in her nomination on Brooklyn and Maddie:
"These two girls are both graduating students who always find time in their day to bring a smile to someone's face. They even have been known to take their best buddy for lunch or to the movies on the weekends. All the students at Greenall exist in an inclusive setting. Brooklyn and Maddie both model how to interact with our students with unique abilities both in and outside the classroom. They were peer buddies in Greenall's Best Buddies program in grades 10-12. They also were buddies for Unified Sport. These two girls are first-class Champions of Inclusion"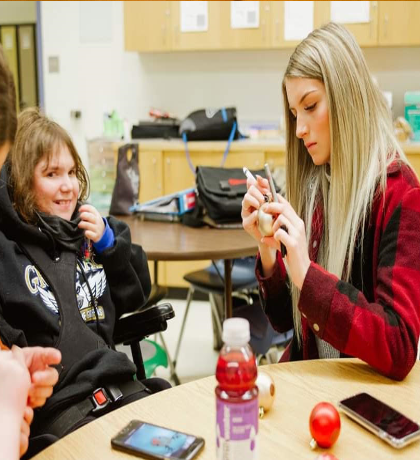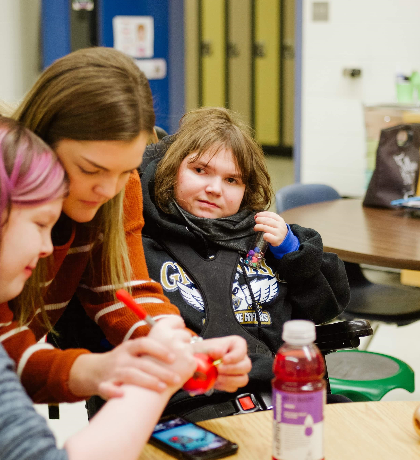 Lawrence Weber
Lawrence (on the left) has been involved with Special Olympics for a long time. He first got involved because of a friend who has a daughter with Downs Syndrome, who is not a Special Olympics athlete. Lawrence coaches the floor hockey team in Humboldt, Saskatchewan. Lawrence takes some athletes fishing in the summer and ice fishing in the winters. Many of the athletes were invited to his wedding 6 years ago, which they all attended and had a blast.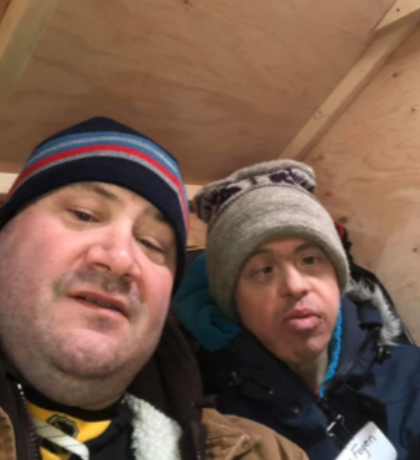 Alicia Thatcher
Alicia (front row on the left) is a Family Medicine Resident in Regina, Saskatchewan, with a vision to change the future of health services to improve the lives of people with intellectual disabilities. Recognizing that health practitioners receive little to no training to deliver services to patients with differing abilities, Alicia advocates in the community and especially among her peers to create standards and skills to serve all types of patients.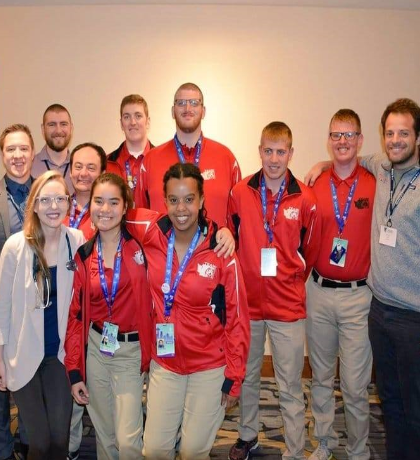 Paul Merriman
Paul is the Saskatchewan Minister of Social Services. He works daily to improve the lives of individuals with disabilities through their access to employment, services and living situations. Inspired by his daughter, Courtney, he has long been an advocate for Special Oly pics and all agencies that seek to improve the lives of Saskatchewan residents experiencing disabilities.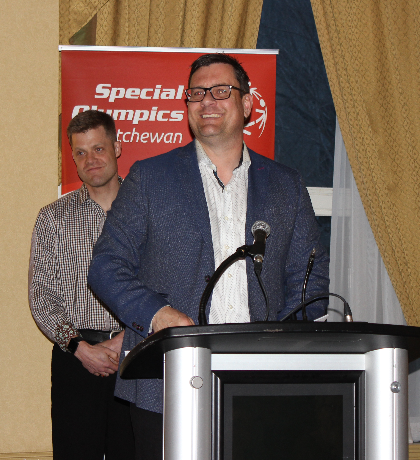 Lucas Sali
Lucas is a Special Olympics athlete that always tries his best and encourages his teammates. Lucas is an energetic and enthusiastic athlete. While in Grade 7 and 8 at Emerald Ridge Elementary School, he participated in Unified Sports, Bocce, Baggo and Basketball. In 2019, he travelled to Toronto and participated with his school's Unified Bocce team in the Special Olympics Youth Games.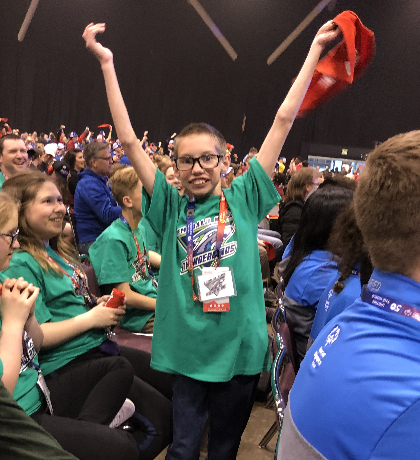 Jackie Shutra and Family
Jackie (left) was the coach for the Special Olympics competitive Softball team, the Tigers, in Saskatoon. She is very professional, positive and is able to organize competitions in a short period of time. on the Tigers, she made everyone feel important and showed sportsmanship. Moreover, Jackie involved her family as volunteers. Despite practices being on Sunday's, her whole family attended meets, helped participate and play in when needed. For a Wind-Up event, Jackie made a fun party for her team and sent out photos to their families as a nice report and memory to save. From the first introduction with the athletes and their families, Jackie showed a great example of her respect for everyone and understanding the necessity of communication with the athlete's families.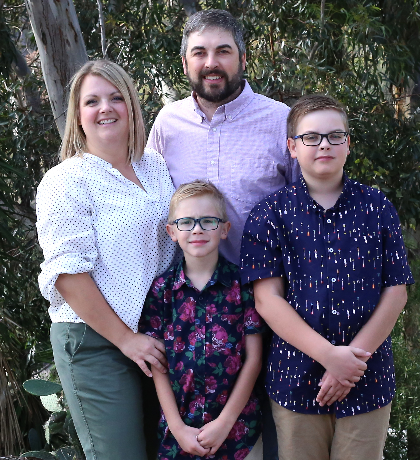 Bob Ballantyne
Bob is currently the manager of Facilities Operations at Prairie Valley School Division overseeing a staff of 10, supporting 39 schools, resulting in a total of 8,500 students. Bob patiently and tirelessly seeks to know students by name and understand their needs. Then he works with key stakeholders including educational assistants, teachers, administrators and all of the inclusion and complex needs consultants. This is vital in order to fully understand the unique needs of groups od children or specific students, which very often changes as the student grows. Bob is responsible for ensuring that physical adaptions to schools happen for students with varying accessibility needs. He is always problem solving and making adaptations in the classroom, playground, outdoor learning spaces, technology, washrooms and other facilities to ensure that all students with highly complex needs have access to their educational program and considers accessibility in all renovations. Bob has invented and custom-built a solution for a single student so they could experience the very same opportunities as all others in the school. This area of Bob's work is not just a job, but a passion and it is evident in all her does. Bob truly works hard to build a more joyful and welcoming world, school, playground and sport field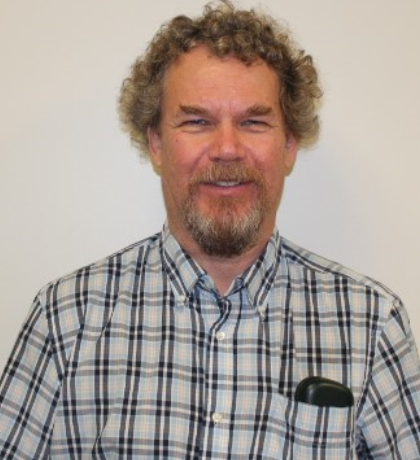 Scott and Marilyn Donaldson
Scott and Marilyn are parents to Special Olympics athlete, Gregory. They both have been involved with support services and programming for those with special needs ever since Greg was born. They were very involved with Greg's early childhood programs and therapy. They continue to be involved as he has grown and become a very active member of the community. Scott and Marilyn have volunteered endless hours for fundraising events and supported everyone in the community apart of Special Olympics. They have travelled to the last 2 Winter National Games to cheer on Greg and the rest of the Team Saskatchewan teammates. They have been advocates on many levels within the community, particularly within the school systems. With their love and support, Greg has grown into an incredible young man.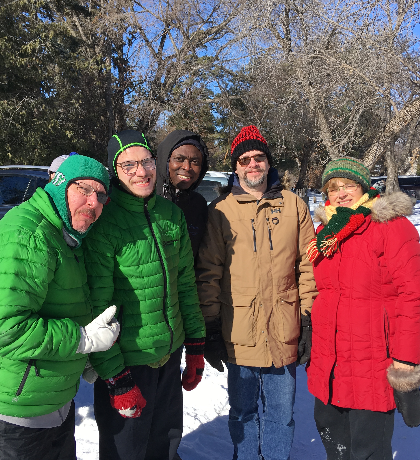 Jen Wood
Jen (back row in the middle) has worked for Saskatchewan Wheelchair Sports Association and has remained involved in the world of neurodivergent sports. Jen is determined and dedicated to having people of all abilities included in as many different aspects of life as possible. She has included participants with intellectual disabilities, varying physical disabilities, and neurotypicals in programming designated for people with physical disabilities. She continually shows the Champion of Inclusion mindset when she carries herself in this manner and encourages others to do the same, with not only advocacy but by example. Jen continues to fill holes where she sees them, and she was instrumental in reigniting wheelchair rugby in Saskatchewan and has stepped up to be a para-athletics coach for Saskatchewan. She applies the same attitudes of wanting the most for her neurodivergent son and applies the values and passion for all.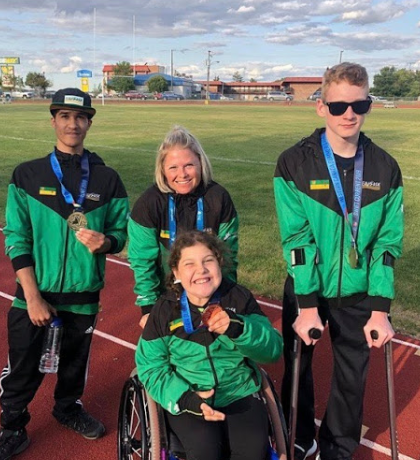 Kyla Murch
Kyla is not just a ray of sunshine, but the whole firey ball of positive energy that keeps going. She is a registered nurse by day and Special Olympics Equestrian coach by night. She is also a Pony Club teacher on the weekends and superwomen to her husband and 3 daughters. Kyla takes the time to match the athlete's personalities with specific horses in order to make their experience invigorating, non-threatening and of course fun. Kyla reads the athletes well and knows when to push them to the next step and to when to sit back when they are having a bad day. Over the years, she has taken the time to assist and groom one athlete, in particular, Amy, to enter generic competitions. Amy has done amazing under Kyla's wing of experience. She always includes Special Olympics athletes in all the events she hosts during the year. Athletes are always encouraged to come and mingle at shows at her home or close to Saskatoon. Kyla is always sharing stories about the great accomplishments her athletes have made. Kyla would love to see other communities start an equine program. Sher would love to set up shows so athletes could compete and show all their amazing talents. She will continue to work towards this goal.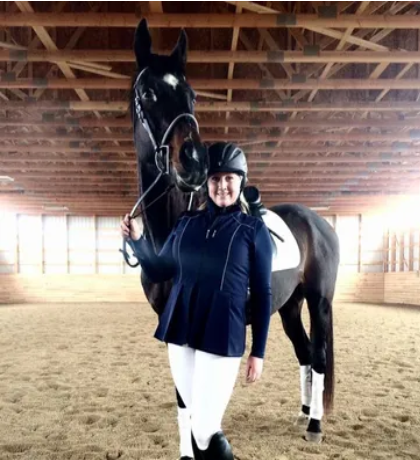 Fraser Tolmie
Fraser is the Mayor of Moose Jaw and does amazing work. He works to make the city a better place, and he actively tries to go out to sporting events and show support. Fraser has also supported Special Olympics in the past and is willing to help everyone.
Wendy Eddy
Wendy was nominated by Kara Leanna Candice, and this is what she wrote in the nomination:
"I would like to nominate my favourite teacher Wendy. She is very caring and cares about the students, including me. She understands what my disability is and understands the challenges I face."
Emma Love
Emma was nominated because she lives the spirit of inclusion in her everyday lie/. Emma chooses to see the gifts and abilities in others, advocating for inclusive communities and empowering to self-advocate. She is a powerful ally and an inspiration to those lucky enough to cross her path. 
Ethan Ginther
Ethan has always been a person who includes everyone, regardless of their personality, skill, race or ability. Ethan has dedicated 7 years to helping at Special Olympics Master Walk program, which allows athletes with higher needs to participate.