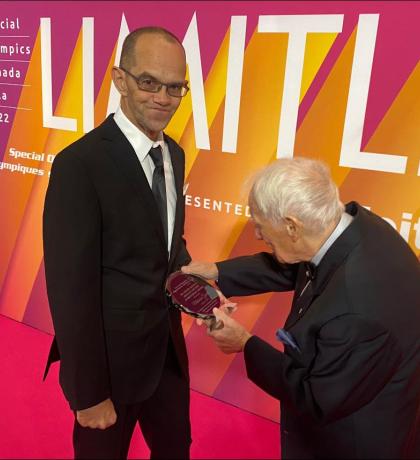 Special Olympics Canada's LIMITLESS Gala was a night to remember for our very own athlete - Malcolm Goebel from Special Olympics Swift Current. Each year, Special Olympics Canada recognized its incredible athletes, coaches and volunteers from across the country who exemplify the spirit and essence of the movement at the National Awards Night. This year, Malcolm Goebel received the Frank Hayden Lifetime Achievement Award! Names after Canada's Dr. Frank Hayden, whose research sparked the Special Olympics movement 50 years ago. This award is presented to an athlete who has best exemplified the spirit, philosophy and goals of the Special Olympics movement over the course of their career - something that Malcolm truly does. 
The LIMITLESS Gala is a night to embrace the transformative power of sport. It brings together elite members of Canada's business and sport communities, celebrity ambassadors, and Special Olympics athletes to celebrate our impact on the lives of thousands of individuals. During the LIMITLESS Gala, athlete Malcolm Goebel had the honour of meeting the individual that the award itself celebrates - Dr. Frank Hayden, himself!
Congratulations to Malcolm, and thankyou to Dr. Frank Hayden for your inspiration and dedication to Special Olympics!