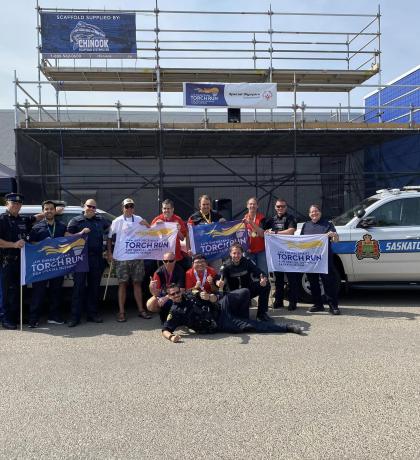 The Saskatoon community helped "free" our finest with another successful event this past weekend!
From August 18th-20th, Law Enforcement Officers came together with Special Olympics athletes to put on the annual Free Our Finest fundraiser. With a goal of 20,000, athletes and officers worked around the clock to raise money for Special Olympics Saskatchewan athletes. This weekend raised over 13 thousand for Special Olympics athletes across the province!!
Over the course of three days (and two nights), Officer Mike Melnyk and Cst. Ryan Crawford volunteered to stay on top of the scaffolding to fundraise and bring awareness for Special Olympics Saskatchewan! Throughout the weekend, they brought high spirits, energy, great music, and fantastic jokes! In addition, other amazing officers partnered with different SO athletes throughout to continue fundraising by selling LETR stuffies and T-shirts! SO volunteers also brought the heat with the BBQ, selling hotdogs, chips, and pop! All funds raised from both the BBQ and the event go directly back to supporting SOS athletes throughout the province.
A big thank you to all the LETR members, SO volunteers, and athletes who helped throughout the weekend. Thank you to all of the incredible sponsors, and to Walmart in Preston Crossings for allowing this fundraiser to happen. Through everyone's support, you helped us make this another successful event!
To see the full event through pictures, make sure to visit our Flickr Page!
If you are wanting to get involved in the Saskatchewan Law Enforcement Torch Run, make sure to visit the following website: