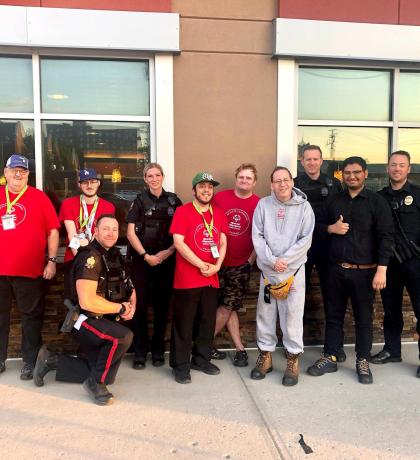 Regina, Saskatoon, Prince Albert and Moose Jaw, SK, May 31st, 2022 - last night was a blast!
Last night, Law Enforcement members and SOS athletes came together with Boston Pizza in 6 different participating locations across the province to raise the much needed funds for Special Olympics Saskatchewan athletes! Our finest put the "serve" in service, combining the delicious food at Boston Pizza with smiles, stories, and laughs to help spread the awareness of Special Olympics.
Law enforcement officers and Special Olympics athletes and volunteers joined together to wait on tables and collect donations on Tuesday, May 31st from 4:30pm-8:30pm. The athletes had the opportunity to share their stories across the province.
The 6 participating locations in Saskatchewan were:
Regina

Boston Pizza Acre 21 3795 Chuka Blvd, Regina, SK S4V 3P7
Boston Pizza Rochdale 4303 Rochdale Blvd, Regina, SK S4X 4R3

Saskatoon

Boston Pizza 8th Street 1519 8 St E, Saskatoon, SK S7H 0T2
Boston Pizza Blairmore 107 Betts Ave, Saskatoon, SK S7M 1L2

Prince Albert

Boston Pizza Prince Albert 3250 2 Ave W, Prince Albert, SK S6V 5E9

Moose Jaw

Boston Pizza Moose Jaw Downtown 111 Manitoba St E, Moose Jaw, SK S6H 0A1
A huge thank you goes out to communities for showing your support and attending the fundraiser! Thank you to Boston Pizza for hosting the fantastic evening. Finally, thank you to all the LETR members (Saskatoon Police Service, Moose Jaw Police Service, Prince Albert Police Service, Regina Police Service, and Saskatchewan Highway Patrol) and SOS athletes for making the event successful.
Additional Information
LAW ENFORCEMENT TORCH RUN FOR SPECIAL OLYMPICS SASKATCHEWAN
The Law Enforcement Torch Run (LETR) is Special Olympics largest grassroots fundraiser and public awareness vehicle. Since the first Torch Run in Kansas in 1981, the event has grown to where there are now over 75,000 law enforcement officers carrying the Flame of Hope and representing over 95 programs in 30 countries around the world.
SPECIAL OLYMPICS SASKATCHEWAN
Special Olympics Saskatchewan has been working with children, youth and adults with an intellectual disability for over forty years. Within this time, it has grown well beyond being an event to become a year-round national movement. Our vision is to continue to improve and expand the quality, opportunity, and accessibility of sport to individuals with an intellectual disability. Along with this, we continue to strive to improve upon both the awareness and support of the Province of Saskatchewan.
ABOUT BOSTON PIZZA
Boston Pizza International Inc. ("BPI") is Canada's number one casual dining brand. The Boston Pizza brand has served communities from coast-to-coast-to-coast for over 58 years since opening its first restaurant in Edmonton, Alberta in 1964. Today, Boston Pizza proudly remains a Canadian company with its hundreds of local franchise owners operating more dining rooms, sports bars and patios than any other single brand in the country, along with take-out and delivery. BPI has been recognized as a Platinum Member of Canada's 50 Best Managed Companies and has been a franchisees' Choice Designation winner for eight consecutive years.
FOR MORE INFORMATION ABOUT THE EVENT, PLEASE CONTACT:
Victoria Lacelle
Director pf Marketing & Development
Saskatchewan LETR Liaison
P: 306 780 9406
E: vlacelle@specialolympics.sk.ca