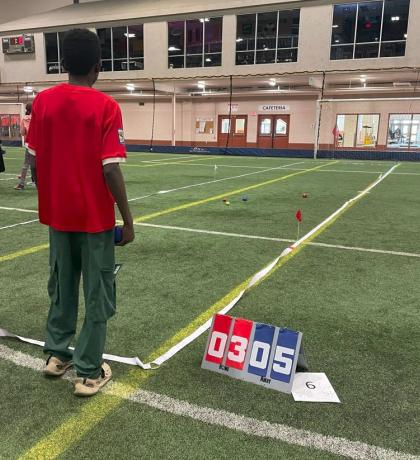 With fall comes back to school for students across Saskatchewan. Back to school also means back to Unified Sport here at Special Olympics Saskatchewan! To kick things off, we welcomed the return of our annual Unified Bocce Tournament in Saskatoon and Regina. Over 210 athletes came out between the two cities to compete, show off their skills, and work together in a series of 6 round-robin games.
From as far as Porcupine Plain, schools gathered on October 11th at the Saskatoon Sport Centre to bring their A-game. With high energy on the turf, schools such as Tommy Douglas and Evan Hardy Collegiate showed up to have a blast and show off what their practices have been doing. While the competition was tough, teams worked together to come up with different strategies, while simultaneously cheering on their school teams and calculating points.
Regina kicked off with their tournament on October 17th at the AffinityPlex turf. With schools coming from Vibank, Lumsden, and Milestone, the atmosphere was energetic. Teams were busy playing across all skill levels. Scott Collegiate, Campbell Collegiate, and Lumsden High School competed in Division 1, while St. Marguerite Bourgeoys School had their first experience participating in a Unified bocce tournament. When not busy competing, many teams were seen cheering on each other and giving helpful tips off the court. One of the best quotes to come out of the tournament came from Campbell Collegiate's very own Kevin Machin who was often heard saying "Become the bocce".
While the time to "become the bocce" may be over, that doesn't mean Unified Sports is ending. Rather, it is time to "become the beanbag" as we head into BAGGO season! BAGGO tournament dates will be coming out shortly, with stops in Saskatoon, Prince Albert, and Regina. Once again, thank you to everyone who came out to play - it was a fantastic tournament overall. We can't wait to see everyone again in the BAGGO Tournament!
For more pictures, check out our Flickr album below: