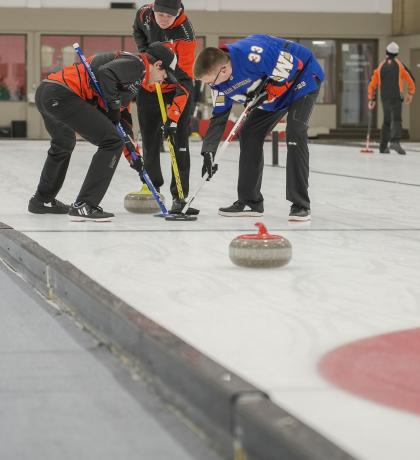 The 2023 Provincial Curling Bonspiel, in partnership with Curl Regina, was held in Regina at the Caledonian Curling Club January 20th - 22nd, 2023. Teams gathered together for a weekend of competitive fun, where they battled it out for their respective medals. We were happy to host a total of 10 teams for our curling bonspiel this year. Of the 10 teams, 6 were athletes from Special Olympics Manitoba. The other 4 teams consisted of Team Fiedelleck from Special Olympics Melfort, the G-Sliders from Special Olympics Swift Current, and team Barth and Team Nagy from Special Olympics Regina.
Friday evening, all teams arrived at their hotel and later gathered at the Callie for the Welcoming Celebrations and dinner prepared by the phenomenal curling club staff. Saturday, the teams took to the ice for a day of round robin draws. To close out the night, our athletes hit the dance floor and busted out their best moves. Some of the coaches joined them to show off their moves, too! It was an evening of laughter and fun, giving everyone a chance to come together. Sunday morning, the teams were back at it, competing one final round robin draw before heading into the medal rounds. After some good competition, and more than a few nail-biting moments, our medal winners were determined!
In Division One, Team Fiedelleck secured the gold medal, followed by Wheat City Rocks 1 (SO Manitoba) with silver. Our bronze medal winners were Hack Attack 1 (SO Manitoba) and Team Barth in fourth. In Division Two, Rock Solid (SO Manitoba) managed to walk away with the gold medal, and the G-Sliders took home silver. Our third place winners were Hack Attack 3 (SO Manitoba) and Team Nagy finishing in fourth. 
After an action-packed weekend of curling, the teams took to their respective vehicles to make the trip back home. It was an excellent experience having all of the athletes together again. Some experienced this competition for the first time, while others had the opportunity to return for another year. We want to thank everyone for their hard work and dedication - without all of you, non of this would be possible!