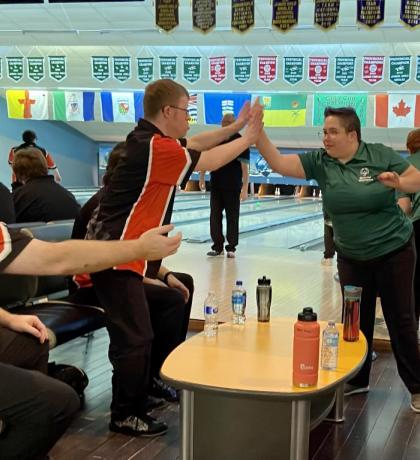 Special Olympics Saskatchewan and Special Olympics Regina teamed up to bring the 2023 SOS 5-Pin Bowling Provincials to Regina from March 3rd - 5th, 2023. There were 12 teams of athletes from around the province competing for not only Provincial Championships, but for a spot on the 2024 Team Sask. The 12 teams were from Weyburn, Regina (4), Moose Jaw, Swift Current, Humboldt (2), Saskatoon (2), and Prince Albert.
Friday night started things off with a fun opening ceremony. The highlight of the evening was Special Olympics Regina athlete Alexei Sunkawasti accompanied by his uncle Ira Lavallee teaming up to perform a traditional Grass Dance.
Saturday was a full day of competition and games. Starting right at 9:00am, athletes had the opportunity to bowl 6 games. These 6 games were used to determine the results (see results here) of the team competition. Games on Saturday wrapped up at around 4:00pm, and athletes headed back to the hotel. After a quick nap, supper, and medal presentations, the dance floor was rocking all night long.
The final 3 games took place Sunday morning. The total of all 9 games played were used to determine the results (see results here) of the singles competition. The medal ceremony at the bowling lanes was an incredible time of joy and celebration.
Congratulations to the athletes! Thank you to all the coaches, mission staff, and volunteers. Thank you to the Sandman Hotel and Glencairn Bolodrome. Thank you to our event sponsors, The City of Regina, Gibson Energy, and Affinity Credit Union. Thank you to Special Olympics Regina for assisting with the organization of this competition.
This competition was the final 2023 SOS Provincial competition of the Winter series. Thanks to all those who took part in any of the 8 sports from athletes, coaches, mission staff, event volunteers, organizing committees, and sponsors. All of the competitions went incredibly well and it was great to get back to competition! The next step for some of these athletes, coaches, and mission staff will be the 2024 Special Olympics Canada Winter Games in Calgary, but you'll have to wait a while for the official team announcement on that.