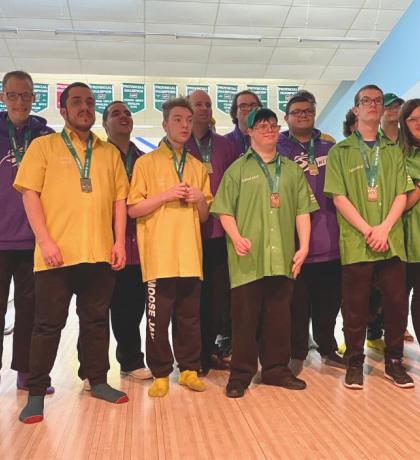 The 2023 Saskatchewan Winter Games took place at various locations around the city of Regina from February 19th-25th. Athletes from all over the province gathered together to represent their districts in multiple days of competition, connection, and fun. Special Olympics Saskatchewan was represented by 9 teams of 5-Pin Bowling athletes hailing from 7 districts. Over the course of 4 days (February 19th-22nd), the athletes participated in the Opening Ceremonies, battled it out in both team and individual competitions, and made lasting memories. The teams were as follows:
Team Southeast
Team Regina
Team Southwest Moose Jaw
Team Southwest Swift Current
Team Parkland Valley
Team Prairie Central 1 
Team Prairie Central 2
Team Saskatoon
Team Lakeland
Sunday was the kickoff day for the Saskatchewan Winter Games. This day included athletes getting settled in, the Opening Ceremonies, and the lighting of the Torch. Monday and Tuesday consisted of round robin play for our 5-Pin Bowling teams, while Wednesday included the Team Stepladder and the Individual Stepladder competitions. After some fierce games and intense competition, the results were as follows:
Team Results
Team Regina - Gold Medal
Team Southeast Moose Jaw - Silver Medal
Team Lakeland - Bronze Medal
Individual Female Results
Jocelyn Ehr (Team Prairie Central 2) - Gold Medal
Robin Stelter (Team Southeast) - Silver Medal
Stacey Pasloski (Team Lakeland) - Bronze Medal
Individual Male Results
Peter Mark (Team Regina) - Gold Medal
Matthew Brossart (Team Saskatoon) - Silver Medal
Luc Tardif (Team Regina) - Bronze Medal
Congratulations to all athletes and coaches on some solid days of competition. You truly battled it out and gave it your all. A big thank you to the Saskatchewan Games Council, the City of Regina, the University of Regina, the fantastic staff at the Glencairn Bolodrome and all mission staff, volunteers and coaches. Your hard work does not go unnoticed! These games would not have been possible without each and every person involved.