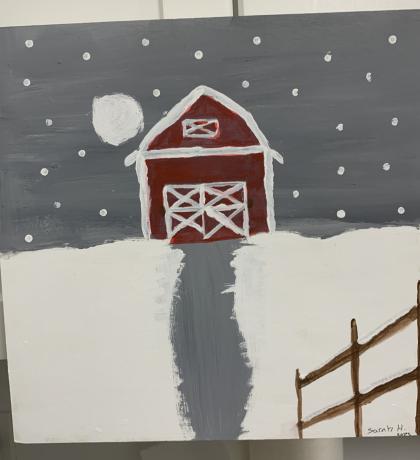 THE HOLIDAY SEASON IS UPON US!
We called upon our athletes to make the season a little brighter by designing our Special Olympics Saskatchewan Holiday Card. In our annual tradition of holiday fun, we asked you to submit artwork of what the holidays and Special Olympics means to you!
Although the decision was a tough one, this years winner of the Holiday Card Contest was athlete Sarah Henry of Special Olympics Estevan!
We definitely have some talented and creative athletes across the province. Thank you to everyone who sent in a picture, they were all fantastic.
As this years winner, we asked Sarah some questions to get to know her a bit more, and to see what she was most looking forward to this holiday season. Keep reading below to see what she had to say!
Get to know more about Sarah:
1. What sports are you involved in?
During the summer, I participate in the Bocce ball Special Olympics and during the winter, I participate in the 5-pin bowling Special Olympics.
2. How long have you been with Special Olympics?
I'm not sure how many years I've been with Special Olympics, but I started in Ontario while still in school (Junior High). I've never done Bocce ball back then but I've been doing 5-pin bowling all these years.
3. What are you most looking forward to this Holiday/Christmas season?
I'm mostly looking forward to spending Christmas with my parents/family and lots of laughter and fun. I'm also looking forward on opening gifts and see my parents opening theirs.
4. What is your favourite Holiday/Christmas cookie?
My favourite Christmas cookies are Sugar cookies with icing and chocolate chip cookies.
Thank you, Sarah, and congrats on being this years Holiday Card Contest winner!