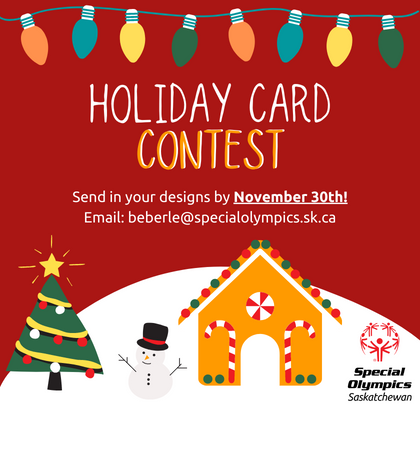 The holiday season is upon us!
We are calling on our athletes to make the season a little brighter by designing our Special Olympics Saskatchewan Holiday Card. In our annual tradition of holiday fun, we want you to submit artwork of what the holidays and Special Olympics means to you!
Show us your creativity. This year's winner will receive a PRIZE and a FEATURE STORY highlighting your Holiday Card!
Deadline for Submissions:
good luck!
Requirements:
Combine the love and spirit for Special Olympics with a fun holiday theme
Show off your creativity with a drawing, painting, photo, collage, or video
Share a holiday message in your card
Rules:
Entries must be from Special Olympics Saskatchewan athletes
Artwork must combine the spirit of Special Olympics and the holidays
Message must be inclusive of all