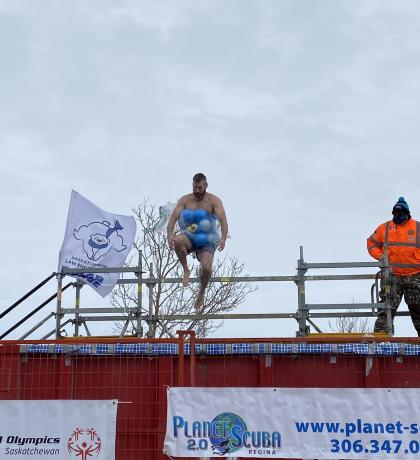 Thank You!
Thank you to everyone who came out to the Saskatchewan Law Enforcement Torch Run for Special Olympics Polar Plunge! All of the funds raised will go right back into helping support Special Olympics Saskatchewan athletes and their programs!
Victoria Square Mall - Regina
It was the perfect day to be #FreezinForAReason. The brr-ave participants took the Plunge in the freezing cold water all for our Special Olympics Athletes! We were warmed by the generosity of all the Polar Plungers, volunteers, sponsors and supporters - we definitely couldn't have done it without everyone's help. Together, we raised over $21,000 for Special Olympics athletes at the 6th Annual Polar Plunge held right in the parking lot of Victoria Square Mall in Regina.
Award Winners!
We would like to congratulate our Polar Plunge award winners:
Individual with the highest fundraising total - Mark McConkey
Team with the highest fundraising total - Headset Heroes
Best Costume - Cathleen MacPhee (mermaid)
See some of the pictures from the fantastic weekend below!