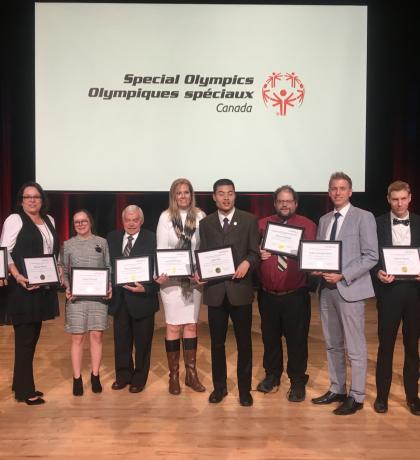 October 2, 2017 – Special Olympics Canada is excited to announce the recipients of the 2017 Special Olympics Canada National Awards. These awards recognize the athletes, coaches and volunteers who have exemplified the spirit and essence of the Special Olympics movement throughout the year. Award winners will be honoured during the 2017 National Awards evening on Thursday, November 16 at Glenn Gould Studio in Toronto. Congratulations to the 2017 recipients. Special Olympics Canada's 2017 Award winners are:
Male athlete of the Year – Jack Fan, ON
Jack has been involved in Special Olympics Ontario for 10 years, competing in Figure skating, swimming and athletics. Demonstrating dedication and success in all 3 sports, Jack has been described as an incredibly kind competitor and teammate, who can often be heard offering words of encouragement to those around him, and even to himself. In 2017, Jack was selected to compete at World Games in Austria, where he captured a Gold medal in the level 4 men's single Figure skating, as well as Gold in the level 2 pairs and a silver medal in the world dance contest.

Female Athlete of the Year – Paige Norton, BC
Paige has been an athlete with Special Olympics for 13 years, competing in an impressive 8 sports; Speed skating, Athletics, Aquatics, Basketball, Softball, Soccer, Golf, Bocce and is a member of Club Fit. She is also an active member in Special Olympics BC's performance camp programs for speed skating, athletics and aquatics. In 2017, Paige was selected to compete at World Games in Austria where she earned a gold medal in women's 1000m speed skating as well as a silver medal in the women's 500m event.

Male Coach of the Year – Cyril MacDonald, NS
Cyril has been a member of the Special Olympics family for 8 years, as both a coach, mission staff, regional coordinator and seat holder on the Board of Directors with Special Olympics Nova Scotia. Described as "a Swiss arm knife for volunteerism", this young coach brings such dedication and enthusiasm to his programs, leading to many successful programs including curling, bocce and speed skating where he coached the first ever athlete from Cape Breton to attend world games. In 2017, Cyril was selected as an assistant coach to the speed skating team attending world games in Austria where his athletes dominated the world stage.

Female Coach of the Year – Donna Bilous, BC
Donna has been an active coach with Special Olympics BC for 13 years, sharing her expertise in speed skating and youth soccer on many levels. Donna served on the Abbotsford Sport Council when she was the chair of her local committee for Special Olympics but recently stepped down to take on a new role as Regional Director. She is currently member of Special Olympics International Speed Skating Rules committee, Special Olympics BC Provincial Technical Advisory for speed skating and is a leader in developing performance camps for coaches in British Columbia, to name a few. In 2017, Donna was selected as the Head Coach of speed skating for Team Canada at World Games in Austria.

Team of the Year – Team Canada West, SK
Team Canada West have been playing Floor Hockey together for the past 4 years and have had many successes over the years. They previously won gold at the 2015 Special Olympics Saskatchewan Provincial Winter Games and at the 2016 Special Olympics Canada National Winter Games. Recently, they won Silver at the 2017 World Winter Games in Austria and it was their first time competing as a team at World Games.

Jim Thompson Award – Francis Sampson, NS
Francis Sampson has been involved with Special Olympics for over 15 years. Over the years, he has hold many-volunteered position such as the Regional Coordinator, the Fundraising Chair of Special Olympics Cape Breton, Treasurer and region representative on the local LETR committee. He has also been Chef de Mission and part of the Mission Staff for many games. He has played an extremely important part in the establishment and sustainability of Special Olympics in Cape Breton. He is an amazing volunteer and gives his whole heart and soul to everything he takes on.

Frank Selke Fundraising Volunteer of the Year – Sue Skeffington, PEI
Sue has been involved with Special Olympics for 12 years. She has contributed to the major successes of the PEI Special Olympics festival. 2017 marked a historic year as they have raised $187,000 for SOPEI and Sue was in the center of it all. She has put many hours in to her role to ensure things run as smooth as possible. In addition, Sue has a great relationship with many of the athletes and is a huge supporter. She always has her athlete's interests as her top priority and is passionate about ensuring their lives are enriched by her and the individuals she is working with.

Dr. Frank Hayden Athlete Lifetime Achievement Award – Shane Haddad, SK
For 37 years, Shane Haddad has dedicated his life and his family's life to being an outstanding role model and advocate for people with intellectual disabilities. Shane started out as an athlete in 1983 where he won a gold medal in swimming during the SOI World Summer Games in Louisiana. Recently, he captured a gold medal at the 2016 National Winter Games in floor hockey, followed by a silver medal at the 2017 World Winter Games in Austria.
Rob Plunkett Law Enforcement Torch Run (LETR) Award – Stacey Campbell, ON
Constable Stacey Campbell has been a strong and dedicated volunteer for LETR for over 26 years. She has been a leader in raising awareness for Special Olympics and because of her long standing commitment and work ethic, she was selected to Co-Chair the Special Olympics Ontario Spring Games in Kingston, Ontario. The Games raised more than one (1) million dollars. She is always thinking of new ways to keep the LETR momentum going and over the years, she has contributed countless of hours in pursuit of raising funds, but more importantly, raising awareness for individuals with intellectual disabilities and the LETR/SO movement.
ABOUT SPECIAL OLYMPICS CANADA
Established in 1969, the Canadian chapter of this international movement is dedicated to enriching the lives of Canadians with an intellectual disability through the transformative power and joy of sport. Operating out of sport clubs in 12 provincial and territorial Chapters, this grassroots movement reaches beyond the sphere of sport to empower individuals, change attitudes and build communities. From two-year-olds to mature adults, more than 42,000 athletes with an intellectual disability are registered in Special Olympics year-round programs across Canada. They are supported by more than 20,000 volunteers, including more than 15,000 trained coaches.
For more information, visit www.specialolympics.ca or follow us on Facebook and Twitter (@SpecialOCanada).

For more information, please contact:
Allison Love
Communications Officer
Special Olympics Canada
416-927-9050 ext. 4312
Alove@specialolympics.ca