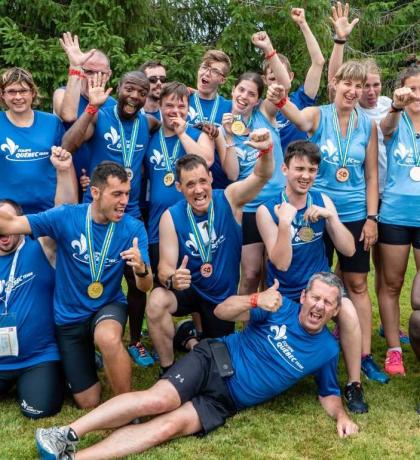 August 5, 2018 (Antigonish, Nova Scotia) – The Special Olympics Canada 2018 Summer Games officially wrapped up last night after a week-long competition in Antigonish, Nova Scotia. Athletes from across Canada competed in nine sports (athletics, basketball, bocce, golf, powerlifting, rhythmic gymnastics, soccer, softball and swimming) across 4 days of competition. Over 1,000 athletes and 300 coaches and mission staff were in Nova Scotia competing at these Games.
"What an amazing week! As the Games come to a close, I am filled with a sense of awe," said Sharon Bollenbach, CEO, Special Olympics Canada. "Witnessing our athletes from across the country pour their heart and soul into not just their competitions, but every aspect of their Games experience, was truly an incredible sight to see. It was a week filled with sportsmanship, athleticism, comradery and joy and I am honoured to have been able to experience it. Thank you to the Games Organizing Committee, sponsors, volunteers, friends, family and of course, the athletes, for an amazing week!"
The Special Olympics Canada 2018 Summer Games were a qualifying event for Team Canada selection going to the 2019 Special Olympics World Summer Games in Abu Dhabi, UAE in March. Athletes from these Games as well as the Special Olympics Canada 2018 Bowling Championships which happened in May in PEI will be selected for Team Canada in the coming weeks.
These Games marked the first event in the global calendar for the 50th anniversary of the Special Olympics movement.
For results from the Special Olympics Canada 2018 Summer Games, please visit http://www.specialolympics.ca/2018-national-games-results .For photos from Games, please visit https://www.flickr.com/photos/125910299@N08/.