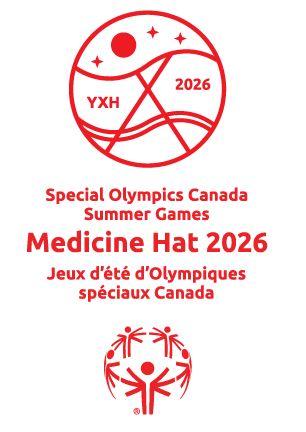 Special Olympics Canada is pleased to announce Medicine Hat, Alberta as the host of its next Special Olympics Canada Summer Games in 2026.
While it marks the third time Alberta will host a Special Olympics Canada National Games, the growing city of Medicine Hat also boasts a history of highly successful events, including the Special Olympics Alberta Provincial Games.
The city of 65,000 is well-equipped with more than 115-kilometres of hiking and biking trails, 250 hectares of parks and more recreational facilities per capita than most other cities in Canada – from indoor and outdoor pools, to soccer fields, baseball diamonds, an all-weather track and six first-class golf courses.
"We're a growing city with a small-town feel, community warmth and big-city business and services," said Medicine Hat mayor, Ted Clugston. "The city of Medicine Hat is ready to share its community spirit and hospitality and welcome all participants and visitors to the Special Olympics Canada Summer Games in 2026."
Located in the scenic South Saskatchewan River Valley in Southern Alberta, Medicine Hat is known as "Canada's sunniest city" with 330 days of sunshine each year, averaging a summer temperature of 22C.
"Special Olympics Canada is thrilled Medicine Hat will be the home of our 2026 Summer Games," said Special Olympics Canada CEO Sharon Bollenbach. "Having previously hosted Special Olympics events, we know Medicine Hat will go above and beyond to deliver an exceptional Games experience for the hundreds of athletes participating at Special Olympics Canada's signature sport competition."
According to Blair McIntosh, Special Olympics Canada's VP Sport, Medicine Hat submitted a strong bid focused on "the care and comfort of our athletes."
"The bid established that the community could meet or exceed all the facility requirements, accommodations, food and transportation that will enable our athletes to compete to the best of their ability," said McIntosh. "There was a clear sign of tremendous support from community volunteers and both municipal and provincial government. These Games will provide not only an incredible opportunity to showcase its great community, but will also provide substantial economic impact to the City of Medicine Hat. The Special Olympics Canada Summer Games 2018 in Antigonish, Nova Scotia generated an economic impact of $8.6M in the Antigonish region and $12.6M Canada wide."
Games Organizing Committee Chairman Brian Varga was honoured when his team received the news.
"Over the next four years, we will prove that Medicine Hat was the right choice for the host city," he said. "The work starts now and all of us, the Board, the volunteers and the community will strive to make this the best Games ever."
The Special Olympics Canada Summer Games is a national sporting event for Canadian athletes with an intellectual disability. To compete, each athlete must qualify at their local and provincial/territorial levels before moving on to compete in one of ten sports featured at the Summer Games, which includes athletics, tenpin bowling, basketball, bocce, golf, rhythmic gymnastics, powerlifting, soccer, softball and swimming. 
Alternating between the Special Olympics Canada Summer and Winter Games every two years, cities across Canada have the opportunity to bid on hosting the National Games.
The Special Olympics Canada Summer Games Medicine Hat 2026 will be the qualifying event for athletes to represent Special Olympics Team Canada at the Special Olympics World Games in 2027.  
ABOUT SPECIAL OLYMPICS CANADA
Established in 1974, the Canadian chapter of this global movement is dedicated to enriching the lives of Canadians with an intellectual disability through the transformative power and joy of sport. Operating out of sport clubs in 12 Provincial and Territorial Chapters, this grassroots movement reaches beyond the sphere of sport to empower individuals, change attitudes and build communities. From two-year-olds to mature adults, more than 41,000 athletes with an intellectual disability are registered in Special Olympics year-round programs across Canada. They are supported by more than 17,500 volunteers, including more than 12,000 trained coaches.
For more information, visit www.specialolympics.ca or follow us on Instagram, Facebook and Twitter @SpecialOCanada.
FOR MORE INFORMATION AND INTERVIEW REQUESTS: 
Blair McIntosh
Vice President, Sport
Special Olympics Canada
416-992-9050
bmcintosh@specialolympics.ca
Read the full release from the City of Medicine Hat: