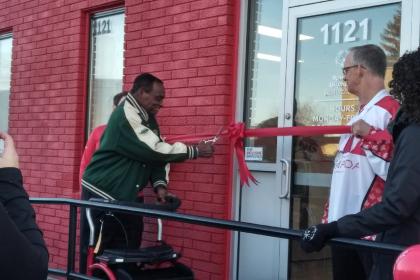 Special Olympics Saskatchewan and the George Reed Foundation celebrated the Grand Opening of the George Reed Centre for Special Olympics Saskatchewan, the new office location of Special Olympics Saskatchewan.With the help of George Reed himself, a formal ribbon cutting marked the beginning of an exciting new chapter for Saskatchewan's own multi-sport charitable organization. Members of the community came out to watch the ribbon cutting and get a look at the new space Special Olympics Saskatchewan has called home. 

Special Olympics Saskatchewan has been providing sport opportunities for athletes with intellectual disabilities since the early 1970's. From modest beginnings, the organization has grown to employ eight full-time staff and oversee year-round sport and competition programming in over 17 Saskatchewan communities. Recognizing a need to relocate led the organization to purchase an office building for their operations and found a timely opportunity to name the space after one of their
most influential builders and leader in advocacy, George Reed. 

"George has been an advocate and supporter of Special Olympics Saskatchewan since he arrived in Saskatchewan," said Faye Matt, CEO of Special Olympics Saskatchewan. "Without his support, we would not be in the position we are today. Often celebrated for his CFL career, today we are happy to celebrate George, the man, for all of his contributions to Special Olympics over the years." Special Olympics Saskatchewan has been raising funds for this capital campaign and will
continue to seek support from those who wish to honour Reed's legacy. "Special Olympics offers world-class sport programs to people with intellectual
disabilities, daily in communities all across Saskatchewan. Community support allows us to change lives through sport for low or no cost to participants."