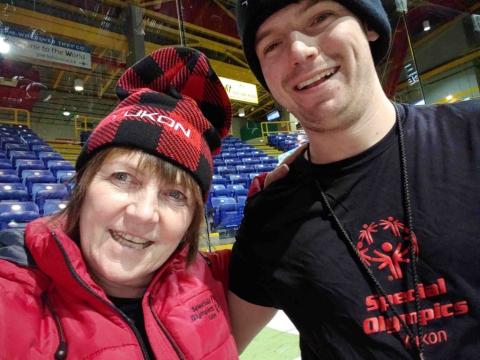 For Whitehorse's Deb and Mike Sumner, Special Olympics Yukon is a family affair.
With Mike competing in figure skating and Deb a curling coach, the Special Olympics Canada Winter Games Thunder Bay 2020 will be the mother-son duo's third time travelling to a National Games as part of Special Olympics Team Yukon.
"I like talking to her, sharing our experiences," Mike, 23, said about team travel with his mom.
"I love being able to share his enthusiasm and to be right there with the team," added Deb. "As a parent on the sidelines you're going to get a similar feeling, but there's so much more when you're travelling as a team."
Mike joined Special Olympics in 2008 at 12-years-old. He got involved with figure skating, bowling, soccer and bocce.
By 2012, Deb joined as a volunteer.
"I went to a lot of his stuff, so I met all the different athletes and I really liked the organization," she said. "I was going anyway, so I thought, I just may as well be involved."
Since then, the pair have been on Special Olympics Team Yukon at the Special Olympics Canada Summer Games Vancouver 2014 and the Special Olympics Canada Summer Games Antigonish 2018, with Mike competing in soccer and Deb coaching bocce. 
While the pair can communicate with a simple look – for example, Deb can do a "hygiene check" with a nod – they find there are few downfalls to travelling as mother and son with the Territorial team.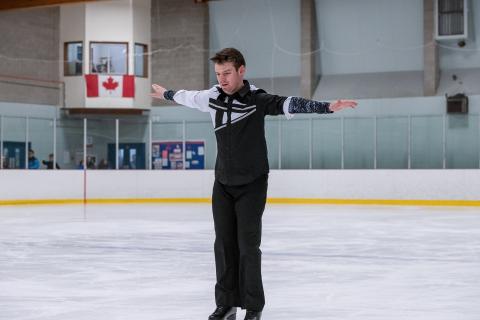 Deb is able to check in on how her son is doing and Mike still gets his independence – especially since she coaches another sport and is wrapped up with her own team.
"Unfortunately sometimes I'm not there when he skates, because I'm curling - that's a tough one," said Deb. "But the rewards of experiencing the Games together outweighs that."
"We're just on this high of being in competition and it's more of a team feeling, than a mother-son feeling."
Being a Special Olympics volunteer has helped Deb grow as a parent and individual.
"I have been so fortunate to develop so many skills in the path of coaching through Special Olympics," said Deb. "Being involved on a coach level helped me understand the scope of what we do for athletes and what that in turn does for me."
"I value what I have learnt and what I have taught is truly a life-changing experience."
Both she and Mike have also made lasting friendships through the movement. In fact, they regularly host their Special Olympics Yukon crew for "Fight Nights" to catch the latest UFC match.
While the pair have travelled the country together, only Mike has travelled abroad with Special Olympics Team Canada, having compete at the Special Olympics World Winter Games in Japan 2005 and Austria 2017.
"It's always nice at Worlds," Mike said, encouraging his mother to apply for the next international competition. "I think she'd like it."
For Special Olympics Canada Winter Games coverage, sign up for the newsletter.