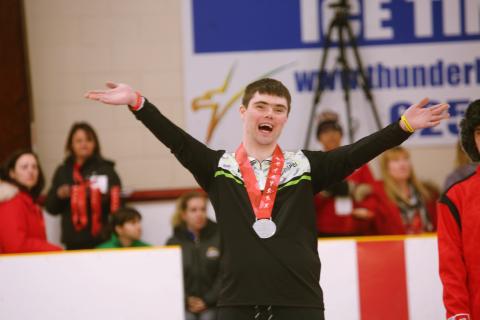 Special Olympics Team PEI speed skater Jordan Koughan, achieved new Personal Bests and medaled at his first-ever National Games – all in brand new skates donated by the Thunder Bay community.
Upon arriving at the Special Olympics Canada Winter Games Thunder Bay 2020, the 25-year-old had an issue with his speed skates and needed to replace them in order to compete.
When speed skating venue manager and President of the Thunder Blades, Laura Cooper, heard about the dilemma, she immediately sprang to action.
Laura reached out to her local network for equipment and her 12-year-old son, Russell Cooper-Landry, had a size that fit Koughan perfectly.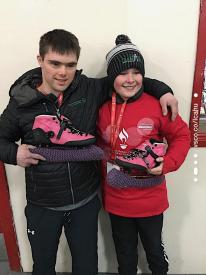 Koughan took to the track on his new skates with Russell and Laura – now an integral part of his Games journey – in the stands cheering him on. 
They watched as the lucky skates helped Koughan attain new Personal Bests in the 111m, 333m, 500m – shaving as much as 9-seconds off his 500m performance and earning a silver medal in the 111m.
Special Olympics Team PEI chef Matt McNally is proud of Koughan and how quickly he adjusted under pressure.
"To witness the journey where Jordan started out in the sport of speed skating on hockey skates, because it provided additional ankle support, and then reached a significant milestone transitioning to modified speed skates late last year has been so inspiring," said McNally. "Each event he attends he continues to improve Personal Best times. 
"Despite this bump in the road … I know Jordan is ready to give it his all and continue to improve his times."