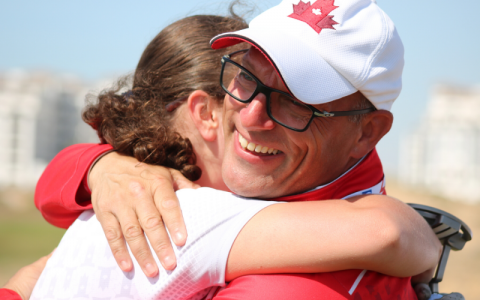 More than two dozen Special Olympics coaches from across Canada will receive Coaching Excellence Awards at the 2019 Petro-Canada Sport Leadership Awards Gala in Richmond, B.C. on Friday.
Hosted by the Coaching Association of Canada in partnership with Petro-Canada, the annual gala recognizes coaches who exemplify the values and competencies of the National Coaching Certification Program (NCCP) and their positive impact within the sport sector in Canada. 
As part of the annual awards gala, Petro-Canada will recognize 82 coaches – 28 from Special Olympics Team Canada 2019 – with Coaching Excellence Awards. These prestigious awards recognize coaches whose athletes have achieved a medal at World Championships, Olympic and Paralympic Games, or the Special Olympics World Games. 
"Behind every athlete who succeeds in the spotlight lies a coach who prefers to stay in the background," says Kristina Schaefer, Director of Petro-Canada Brand Loyalty. "These coaches deserve to be celebrated and recognized for their commitment to their athletes, their dedication to competition in sport and to exhibiting the highest standards of ethical conduct."
Meet the 2019 Petro-Canada Coaching Excellence Award recipients who helped lead Special Olympics Team Canada athletes to the podium at the 2019 World Games in Abu Dhabi:
Peter De Marchi, Special Olympics BC (Athletics)
George Maclagan, Special Olympics BC (Powerlifting)
Jennifer Mousley, Special Olympics BC (Swimming)
Tom Norton, Special Olympics BC (Athletics)
David Wilkinson, Special Olympics BC (Bocce)
Pat Enns, Special Olympics Alberta (Bowling)
Maria Powell, Special Olympics Alberta (Athletics)
Jackie Powell, Special Olympics Saskatchewan (Swimming)
Melissa Diamond, Special Olympics Manitoba (Swimming)
Jennifer Andrade, Special Olympics Ontario (Soccer)
Shelby Best-Miller, Special Olympics Ontario (Soccer)
Duane Carson, Special Olympics Ontario (Swimming)
Rebecca Cuff, Special Olympics Ontario (Athletics)
Glenn Cundari, Special Olympics Ontario (Golf)
Donna Edwards, Special Olympics Ontario (Rhythmic Gymnastics)
Camille Gardiner, Special Olympics Ontario (Basketball)
Stephen Johnson, Special Olympics Ontario (Basketball)
Neil Lewis, Special Olympics Ontario (Soccer)
Wayne Meyers, Special Olympics Ontario (Basketball)
Rebecca Norton, Special Olympics Ontario (Bowling)
Céline Gélinas, Special Olympics Quebec (Bowling)
Michel Guay, Special Olympics Quebec (Swimming)
Mario Inkel, Special Olympics Quebec (Bowling)
Maura Hunter, Special Olympics Nova Scotia (Swimming)
Ursula Hynes, Special Olympics Nova Scotia (Rhythmic Gymnastics)
Ross MacIntosh, Special Olympics Nova Scotia (Powerlifting)
Jason Agnew, Special Olympics New Brunswick (Athletics)
Rosemary Ryan, Special Olympics Newfoundland & Labrador (Athletics)