Logan Wilson is a 17-year-old Miramichi, New Brunswick high school student with a passion for Special Olympics.
When the Special Olympics New Brunswick Winter Games were hosted in his hometown, one of his teachers created a Special Olympics class. Logan was immediately hooked.
He helped raise awareness of the Games and started a Unified basketball team at his high school, which took him to the Invitational Youth Games in Toronto last spring. 
Below is an essay Logan wrote for his English class. The assignment was "to write a personal essay on something that has changed you."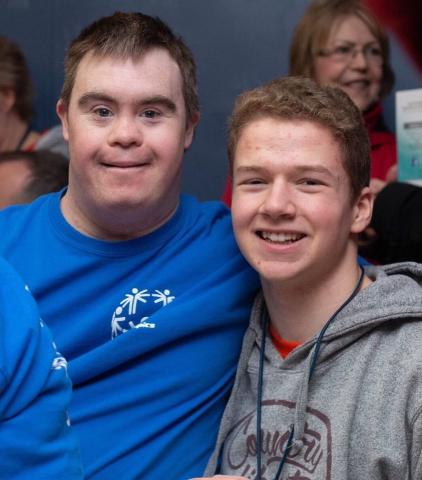 Trust me, this is an experience of a lifetime.  
I am in Toronto for a Special Olympics basketball tournament with my favourite teachers, friends and special needs students. Like I said, experience of a lifetime, but I sit here frustrated that I have been locked out of my hotel room and now the buses are already 20 minutes late to pick us up for our day of games.  
As I look around me, I see that I am not the only one frustrated. Everyone has that look of impatience and irritation. 
While my friend Marty and I are complaining, we notice two of the special needs students sitting on the curb, playing with rocks and leaves, just enjoying each other's company and the world around them.  
Marty turns to me and says, "The secret to happiness is inside one of those kids."  
I had never thought of it like that before, but after he said that I came to a realization that not only is the secret to happiness inside of them, but learning what that secret is comes from spending more time with them.
I didn't realize the gift I had with the special needs students would ever turn into a course I take at school, give me work in the summer, or take me all the way to Toronto. I thought I was just forming friendships with some very cool people.  
I have always enjoyed being around the special needs students, and in middle school I had made it my mission to become real friends with Josh, a student with autism, instead of just saying hi in the hallways or giving out high-fives. I started eating lunch with him every day, and soon enough I had other students from school eating with Josh and I.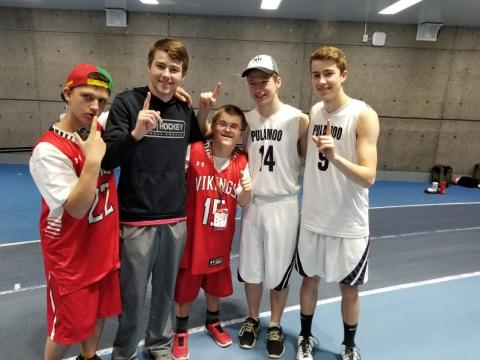 At the time I didn't realize the impact I had with helping Josh become more social in the school. 
It is through my work with Special Olympics and the Special Olympics class at Miramichi Valley High School that I realized not everyone has the ability to form those friendships as naturally as I do.  
No relationship is the same, although many people stereotype and think all special needs people have the same personality. My friendships are built on different interests, personalities, and intellectual abilities. I take the time to really get to know our Special Olympics athletes and they appreciate my sincerity. Although they all have different interests, they all have one thing in common and that is the ability to see the silver lining in every situation and spread happiness to everyone around them. 
Special Olympics allows me to grow as a person and gives me the confidence to look into my future and see that I could possibly make a career working with special needs people.
Last year my teacher created a course at my school to help support the Special Olympics New Brunswick Winter Games  in Miramichi. 
Through the course, I have taken on many projects.  The best project was the Fall Fair to raise money for the Games. Before this class, I would not have shown the initiative or had the confidence to take on this project. I was able to get a bouncy castle, bring athletes in to be recognized as well as present the MVP awards. I decided to take this project on because I wanted to raise awareness for the Games so people would come to see the athletes and give them an experience of a lifetime.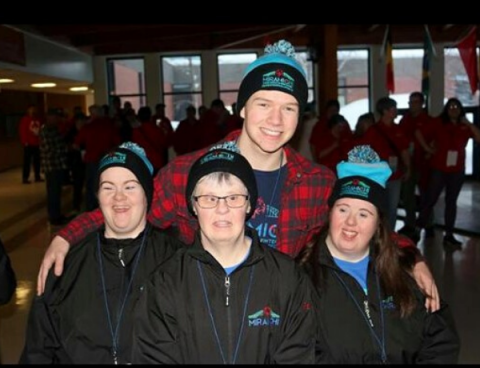 The Games were a huge success - the biggest event that Special Olympics New Brunswick has had in history. It was a group effort to make them so big, but every individual had a big role in it. 
Thanks to the class, another opportunity came along for me: I was asked to attend a week-long summer camp with Patrick McEvoy, a student with an intellectual disability, in Nova Scotia.  The thought of this experience scared me at first, as it was a huge responsibility. The Special Olympics motto came to my mind and it is what ultimately motivated me to go out of my comfort zone.  The first time I heard these words they inspired me, as they still do to this day: "Let me win. But if I cannot win, let me be brave in the attempt."  
I realized how much this would mean to Patrick. Looking back at it now, that week was the highlight of my summer, and seeing the smile on Pat's face was the biggest reward.
My involvement with Special Olympics has reinforced the idea that people are people, and everyone is looking for friendships and connections. My involvement has definitely had an impact on my life as well as the athletes and knowing that I am making a difference brings me closer to finding the "secret to happiness."