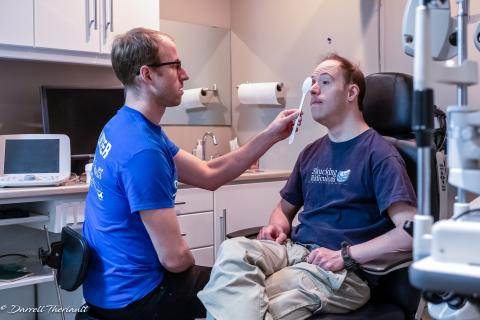 Special Olympics Team PEI five-pin bowler Eric Smith, 36, has had cataracts since a young age.
At four-years-old he received his first pair of glasses and hasn't taken them off since. While his cataracts have been monitored over the years, he hasn't had a surgical consult since he was two-years-old – until he attended a Special Olympics PEI Opening Eyes clinic in Charlottetown March 2019.
Opening Eyes is one of eight free health screenings offered to athletes with an intellectual disability through Special Olympics' Healthy Athletes program. These screenings – from vision to podiatry, physical therapy, dentistry and mental health – provide improved health care for people with an intellectual disability, delivered by healthcare professionals trained by Special Olympics. The screenings often identify health issues that need further attention, which was the case for Smith.
"I was really impressed," Smith's mother Estelle said of the clinic. "There was a real ophthalmologist, Dr. Jayne Toombs, and she tested his eyes and she was very thorough with the examination."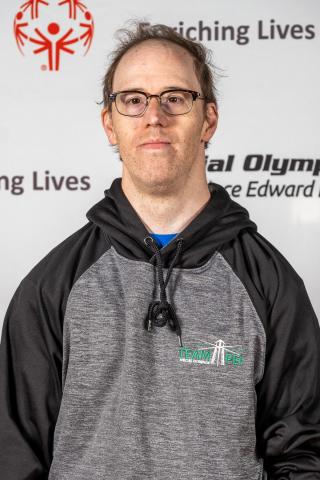 Not only did Dr. Toombs connect the family with a surgical consult to check his cataracts, but she also identified that Smith needed a new prescription for his glasses – which he was fitted for that day and later received, free of charge (thanks to Opening Eyes Partners Lions Club International, Safilo and Essilor.)
"This helped him a lot," said Estelle.
In fact, when Smith attended the Special Olympics PEI 5-Pin Bowling Provincials May 2019 – his new prescription in tow – he hit a personal best in one of his games knocking down 96 pins on his way to earning a gold medal, which lead him to qualify for the upcoming Special Olympics Canada Winter Games Thunder Bay 2020.
He's also since met with a surgeon, who advised to wait a year before deciding on cataract surgery. Smith has a follow-up appointment scheduled in April.
According to Special Olympics PEI Program Director Matthew McNally, a big component of the Healthy Athletes program is ensuring patient follow-up and connecting athletes with the appropriate professionals.
"Our Healthy Athletes clinicians also have a great sense of how to work with individuals with an intellectual disability and their families," said McNally. "It's more than an in-and-out appointment – they provide that extra time, the extra care to listen to their story and understand the need." 
"That goes a long way – it's a bit of a culture shift."
Healthy Athletes also removes the financial barrier for athletes or families without health benefits.
"They're doing a full eye examination that would normally cost upwards of $100 to get done," said McNally. "And to top that off with a free prescription – it's really rewarding."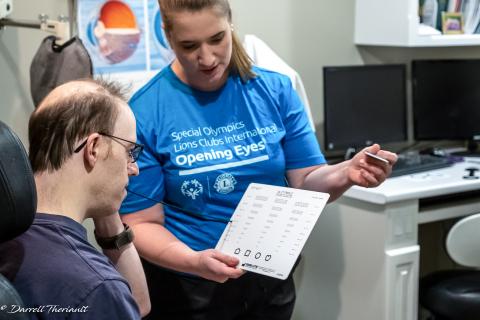 Not only has Eric improved in five-pin since receiving his new specs, he's also come out of his shell and continues to bond with Special Olympics Team PEI.
"I want to say a huge thank you," said Estelle. "Eric felt comfortable at the clinic."
"What they did was very professional and very helpful for my son and other athletes."
Healthy Athletes screenings are provided at no cost to athletes – and all Canadians with an intellectual disability – at Provincial and National Games across Canada, as well as at some stand-alone Special Olympics events.
The following screenings will be available at the Special Olympics Canada Winter Games Thunder Bay 2020:  Opening Eyes (vision), Health Promotion (better health and well-being), FunFitness (physical therapy), Strong Minds (emotional wellness) and Special Smiles (dentistry).
Thank you to the incredible Partners who help make Healthy Athletes possible: Golisano Foundation and the Government of Canada.