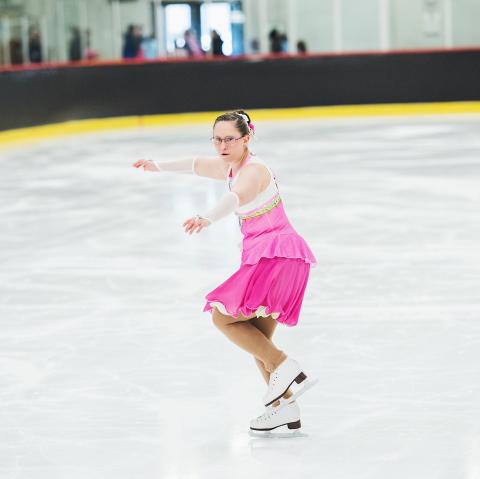 Athlete: Stéphanie Lachance
Age: 26
From: Magog, QC
Rock The Rink performance: November 15 at Vidéotron Centre
1. How long have you been figure skating?
I have been figure skating for 23 years, since I was three years old. 
2. How long have you been involved with Special Olympics?
I have been involved with Special Olympics for 15 years. My very first competition was at the Québec Games in St-Hyacinthe in 2005.
3. What other sports do you play?
To supplement my training, I do off-ice exercises and jogging.
4. What is the biggest figure skating competition/performance you've done to date?
My biggest performance was at the 2012 Special Olympics Canada Winter Games in St‑Albert, Alberta, where I won a silver medal.
5. What was your reaction when you found out you'd be performing at Rock the Rink?
When my parents told me about the invitation to participate in Rock the Rink, I was really surprised because I didn't think my performances would take me that far.
6. How are you preparing for this performance?
I'm working very, very hard to prepare for the show by practising on the ice with a coach or in a group 5 times a week.
7. Who is your favourite figure skater(s)?
I admire Joannie Rochette for her perseverance, and at the Special Olympics Canada Winter Games I had the pleasure of meeting Jamie Salé, who presented me with my medals.
8. What do you love about skating?
What I like best about figure skating is the competitive side. It makes me push my limits.
9. Tell me about the routine you'll be performing at Rock the Rink?
For the Rock the Rink show, I'll be skating to the music of the Cirque du Soleil's O.
10. What do you like about Special Olympics? How has it changed your life?
Being part of the Special Olympics family has helped me see that I'm not alone in spite of my differences, because travelling and making new friends have changed my life and brought discipline to my life.
11. What would you like to say to Tessa Virtue and Scott Moir for inviting you to perform alongside them?
Thank you Tessa and Scott for inviting me and thinking of us, the Special Olympics, and for allowing us to participate in this show alongside great skaters.
12. After Rock the Rink, what's next? 
It's my turn to invite you to come and root for us at the next Special Olympics Canada Winter Games in Thunder Bay, Ontario, from February 25 to 29, 2020, where many of us will be competing. A big thank you to everyone.