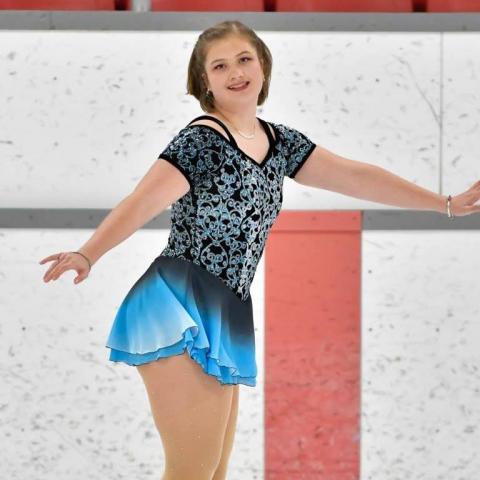 Athlete: Sarah Thomas
Age: 18
From : Whitby, Ont.
Rock The Rink performance: November 3 at Leon's Centre
1.    How long have you been figure skating?
I started with the Ajax Rising Stars Learn to Skate program 10 years ago.  I did my first figure skating competition 9 years ago and that is when I fell in love!!!  My absolute favourite thing is to do my solo in competition!
2.    How long have you been involved with Special Olympics?
Figure skating (well actually Learn to Skate) was the very first thing I did with Special Olympics...so 10 years.
3.    What other sports do you play?
I also do golf and track & field in the summer and in the winter I will join bowling this year.
4.    What is the biggest figure skating competition/performance you've done to date?
This past winter I got to go to the Canada Games. It was so amazing!  There were so many awesome athletes in so many sports.  
5.    What was your reaction when you found out you'd be performing at Rock The Rink?
I was so excited when I found out.My mom had told me that some Special Olympic athletes were going to get picked and I was hoping that I would be one of them or that some of my friends would get picked, so I could go watch my friends. I was in the car when mom told me I got picked and mom says that her right ear is still ringing from me squealing so loud.
6.    How are you preparing for this performance?
I am skating and learning my new routine.
7.    Who is your favourite figure skater(s)?
Kurt Browning!!  He does the best back flips. I got to skate with Kurt at my arena when he came to tell coach Nancy that she had won an award and was going to be on a TV show with him.  Kurt showed me how to do my two-foot spin and now I am really good at it.
8.    What do you love about skating?
Pretty much everything.  I love learning jumps and spins and skating fast around the rink.
9.    Tell me about the routine you'll be performing at Rock The Rink?
I am learning a new routine to Mulan 2 music. My new routine has a slow part at the beginning, so I am having to learn to be more graceful.
10.    What do you like about Special Olympics? How has it changed your life?
I have made so many friends and I have gotten to go to so many places like Red Deer and Sault Ste. Marie.
11.    What would you like to say to Tessa Virtue and Scott Moir for inviting you to perform alongside them?
Thank you for letting me skate in Rock the Rink...this is awesome!  I will do my best and make them proud.
12.    After Rock The Rink, what's next?
 I want keep learning my jumps and all the other elements I need to do so I can be ready to move to Level 3 for my solo.