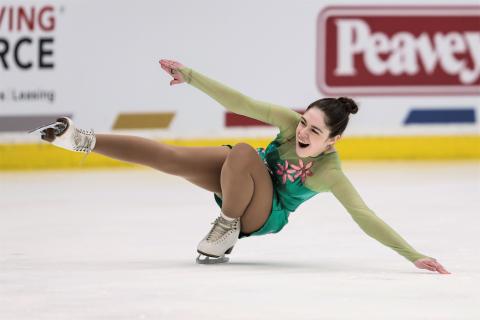 Athlete: Molly Kane
Age:
22
From: Moncton, NB
Rock The Rink performance: November 16 at Avenir Centre in Moncton
1. How long have you been figure skating?
I have been figure skating for 10 years.
2. How long have you been involved with Special Olympics?
I have been involved with Special Olympics throughout the past 10 years.
3. What other sports do you play?
I was a competitive swimmer for many years with the Bathurst Blast Piranhas Swim Team.  I competed at the 2013 Canada Summer Games in Sherbrooke, PQ.
4. What is the biggest figure skating competition/performance you've done to date?
This past February I competed at the 2019 Canada Winter Games in Red Deer, AB where I won a bronze medal for Team New Brunswick in the Free Skate competition.
I was so happy and proud to be there. Having competed at the Canada Summer Games in 2013, I had reached my goals of competing in both the Summer and Winter Games.  A dual sport athlete, just like Clara Hughes!
5. What was your reaction when you found out you'd be performing at Rock the Rink?
When my mom told me, I was so happy!  I am so touched and honoured to have been chosen to skate with Olympic athletes!
6. How are you preparing for this performance?
I will soon get back on the ice from summer break, but I have been practicing certain moves, like my spirals, all summer long.
7. Who is your favourite figure skater(s)?
I like Gabrielle Daleman.  I watched her skate at the 2018 Winter Olympics.  She won a gold at the 2018 Winter Games in Pyeong Chang.  She is like me because she has a learning disability that she has worked to overcome.
8. What do you love about skating?
Skating makes me feel like an ice princess.  The "cold doesn't bother me, anyway!"
9. Tell me about the routine you'll be performing at Rock the Rink?
At Rock the Rink I will be performing my solo with music from the Disney Fairies Fly to Your Heart by Selena Gomez.  My signature move is a hydro-blade that got the crowd cheering loudly at the Winter Games!
10. What do you like about Special Olympics? How has it changed your life?
I have made many new friends and I have had the opportunity to travel to many new places all over Canada.  
11. What would you like to say to Tessa Virtue and Scott Moir for inviting you to perform alongside them?
To Tessa and Scott, I would like to say thank you for allowing me to skate with you.  You guys are super awesome for being Special Olympics Ambassadors and helping to show that Special Olympics athletes have something wonderful and valuable to share.
Later, skaters!  I can't wait to meet you both!
12. After Rock the Rink, what's next? 
After my Rock the Rink performance I will be preparing for the Special Olympics Canada Winter Games being held this coming February in Thunder Bay, Ont.
To support athletes like Molly, text SPORT to 20222 to donate $10 to Special Olympics Canada.