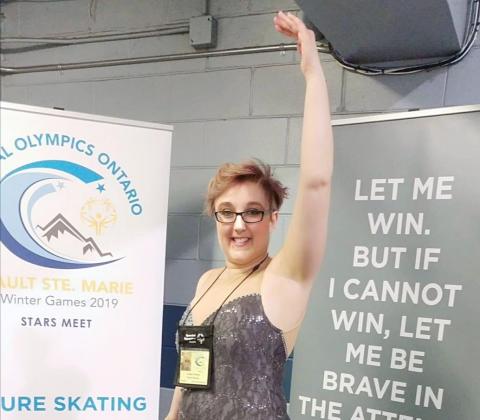 Athlete: Hailey Fulford
Age: 33
From: London, Ont.
Rock The Rink performance: October 30 at Budweiser Gardens
1.    How long have you been figure skating?
I have been skating on and off since I was eight-years-old.  In total about 15 years, as I put my skating on hold while I attended Lambton College in Sarnia. 
2.    How long have you been involved with Special Olympics?
I have been involved with Special Olympics in London for about 6 years.  When I first started skating in Brantford, there was no Special Olympics program so I had a private coach. 
3.    What other sports do you play?
I have played Special Olympics floor hockey for about five years.  In 2015, my team went to the Provincials in Ottawa. I will also be playing Special Olympics basketball this season. I have a background in dance as well.
4.    What is the biggest figure skating competition/performance you've done to date? The biggest figure skating competition/performance I have been in was the Special Olympics Ontario Provincial Winter Games held in Sault Ste. Marie in February of 2018.  
5.    What was your reaction when you found out you'd be performing at Rock The Rink?
I was absolutely shocked to learn that I had been selected to skate in Rock The Rink.  I am excited to see Scott and Tessa and all the other amazing skaters.  
6.     How are you preparing for this performance?
I have two to three sessions of practice a week with my coach Carol Moir for the fall skate.
7.     Who is your favourite figure skater(s)?
Well, obviously Scott and Tessa are two of my favourite skaters. Being that Scott's aunt is also my coach, I had the opportunity to skate with Scott as he attended one of my lessons about five years ago in London.  I also had the opportunity to meet Tessa and have my picture taken with her at Medway when Tessa dropped in. 
Elvis is also one of my favourite skaters.  When Elvis was competing, we had tickets at the Hamilton Coliseum to see him during one of his practices, and I absolutely loved him!! 
8.    What do you love about skating?
I love skating because I can forget all my worries and stresses while I skate. It's something that I can do well and feel comfortable at.  
9.    Tell me about the routine you'll be performing at Rock The Rink?
My performance for Rock the Rink will be showing my love for skating and how happy it makes me. 
10.     What do you like about Special Olympics? How has it changed your life?
I love my coaches in the Special Olympics program. I have learned more in the in last 6 years with my amazing coaches than I ever have before. 
Their patience and motivation has given me a new confidence. 
11.     What do you hope the audience will take away from your performance?
I hope the audience will see that when you really want to achieve a goal,  go for it, now matter what holds you back, disability or not. 
12.     After Rock The Rink, what's next? 
I was hoping to try out for an Adult Synchro team in the future. I may not be up to their level as of yet, but it's a goal for me.  
I want to improve my skating skills to attend more competitions and hopefully be invited to the next Provincial Games.