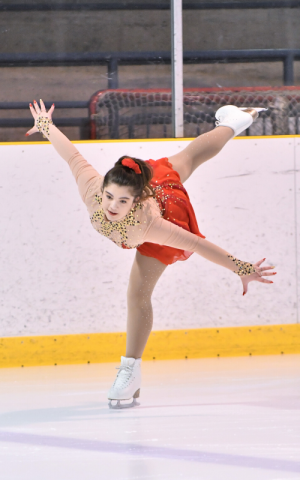 Athlete: Grace Morris
Age: 15
From: Ajax, Ont.
Rock The Rink performance: November 9 at Tribute Communities Centre in Oshawa
1.    How long have you been figure skating?
I started 12 years ago on a pond at my Grandparents' farm.
2.    How long have you been involved with Special Olympics?
I have been with Special Olympics for 9 years.
3.    What other sports do you play?
I play soccer, and enjoy wakeboarding.
4.    What is the biggest figure skating competition/performance you've done to date?
Skating and winning double gold at Provincial Games in Sault Ste. Marie in 2019.
5.    What was your reaction when you found out you'd be performing at Rock the Rink?
My reaction was speechless and shocked because I never thought I would get an opportunity like this at such a young age.
6.    How are you preparing for this performance?
Just practicing as much and as hard as I can until the show. I'm going to be keeping Sonny our skate sharpener in business!
7.    Who is your favourite figure skater(s)?
Gabrielle Daleman, Tessa Virtue, and Scott Moir of course.
8.    What do you love about skating?
What I love about figure skating is all the friends that you can make. I also love that I can get on the ice and just focus on my skating and forget about the rest of the day.
9.    Tell me about the routine you'll be performing at Rock the Rink?
I will be skating my solo to the song Arena by Lindsey Stirling, can't get a better song than that for my free skate.
10.    What do you like about Special Olympics? How has it changed your life?
I have traveled around Ontario and I make new friends instantly where ever I go. Skating is a singles event for me and without it I would not have the self confidence to perform on my own and travel without my family.
11.    What would you like to say to Tessa Virtue and Scott Moir for inviting you to perform alongside them?
I still think I am dreaming! I would love to say thank you and I'm so excited to be performing in your show. Thank you for this opportunity of a lifetime!
12.    After Rock the Rink, what's next? 
I'm going to compete in the Special Olympics Canada Winter Games in Thunder Bay, so I'm training hard for it. My end goal is to make it to the Special Olympics World Winter Games in Sweden in 2021.
To support athletes like Grace text SPORT to 20222 to donate $10 to Special Olympics Canada.