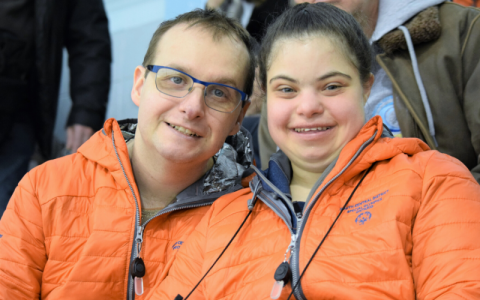 Athletes: David Robertson & Nicole Vespa
Age: 38 and 25
From : Hamilton, Ont.
Rock The Rink performance: November 6 at Paramount Fine Foods Centre
1.    How long have you been figure skating?
Nicole: Figure skating for 21 years and skating with Special Olympics for 17 years.
David: I have been skating since Special Olympics Hamilton started the program in October 1997.
2.    How long have you been involved with Special Olympics?
Nicole: Started with Special Olympics at the age of eight, 17 years ago.
David: I have been in Special Olympics 26 years.  When I was 12, I started playing basketball.
3.    What other sports do you play?
Nicole: Special Olympics swimming, rhythmic gymnastics and golf.
David: I play softball in the summer.  I used play basketball, soccer and swimming, but now I only do two sports.
4.    What is the biggest figure skating competition/performance you've done to date?
Nicole: Participated at National Games in St. Albert, Alberta, winning gold in February 2012. And National Games in Corner Brook, Newfoundland in February 2016, winning bronze.
David: I have been to the Special Olympics World Games in Japan, South Korea and Austria, where I won a total of three gold, three silver and one bronze.  I have also skated at a Leafs practice game.  Rock The Rink is one the biggest ever skates I will be doing.
5.    What was your reaction when you found out you'd be performing at Rock The Rink?
Nicole: Very excited and confident. Looking forward because, "I never give up."
David: I am very happy and honoured to skate with these great Olympic champions.  I have met Scott and Tessa at Skate Canada before and also thought it would be great to be on the ice with them. Awesome!
6.    How are you preparing for this performance?
Nicole: Preparing on and off ice. On ice twice a week, working out at the gym, plus spending time with my skating partner, David.
David: Practice. Practice, Practice.  Lots of hours on and off the ice. Spending time with my pairs partner Nicole on and off the ice.
7.    Who is your favourite figure skater(s)?
Nicole: Tessa and Scott because I love skating with my partner David Robertson.
David: Scott, Tessa, Elvis, and of course Kurt Browning!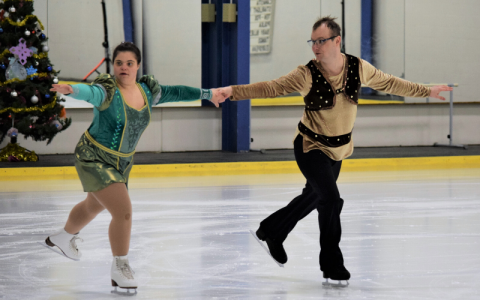 8.    What do you love about skating?
Nicole: I love to skate with all my heart and skating is my life. I love the feeling when you glide on the ice.
David: I love that you can glide across the ice and the jumps.  I played hockey before skating, but it just felt right to be figure skating to the music.
9.    Tell me about the routine you'll be performing at Rock The Rink?
Nicole: Will be skating a pairs routine with David Robertson to the Shrek theme music.
David: I will be skating Pairs with my partner Nicole. Shrek is one our favourite movies and I love the music of I'm a Believer by The Monkees.
10.    What do you hope the audience will take away from your performance?
Nicole: Hope that we will do our best and to show the audience that Special Olympics athletes can do anything they set their mind to.
11.    What would you like to say to Tessa Virtue and Scott Moir for inviting you to perform alongside them?
David: I would like to say thank you very much.  It is an honour to be able to share the ice.  This is a definitely a dream come true!  Thank you for supporting Special Olympics and inclusion!
12.    What do you like about Special Olympics? How has it changed your life?
Nicole: Special Olympics helped me learn different sports, to stay active and be healthy. Special Olympics allowed me to meet friends and make new friends when going to compete at competitions.
David: When I played hockey, it was in the generic league. It was very difficult because the players and parents did not understand that I was "different."  This was one of the reasons that I stopped playing. I then went into Special Olympics and haven't looked back. Special Olympics has been very good for me.  I have made many friends across the country and world and visited many places that I may not have been able to.
13.    After Rock The Rink, what's next?
Nicole: Next goal is to compete at the Special Olympics Canada Winter Games in Thunder Bay in February 2020.
David: I will be attending National Games in Thunder Bay in February 2020.  I'm looking forward to Nationals and hopefully qualifying for World Games in Sweden 2021.
To support athletes like David and Nicole text SPORT to 20222 to donate $10 to Special Olympics Canada.