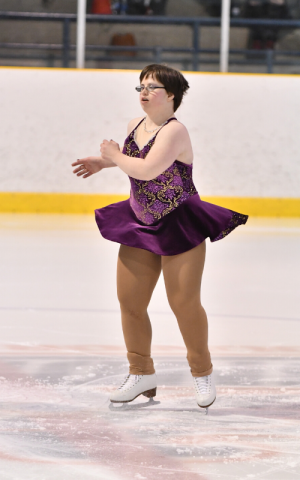 Athlete: Danielle Waters
Age: 28
From: Merriton, Ont.
Rock The Rink performance: November 8 at Meridian Centre in St. Catharines
1.    How long have you been figure skating?
About 12 years.
2.    How long have you been involved with Special Olympics?
About 12 years.
3.    What other sports do you play?
Swim competitively with Special Olympics.
4.    What is the biggest figure skating competition/performance you've done to date?
Winning a gold medal at the 2019 Special Olympics Winter Provincial Games in Sault Ste Marie.
5.    What was your reaction when you found out you'd be performing at Rock the Rink?
Shock, surprise and then excitement.
6.    How are you preparing for this performance?
Practice really hard.
7.    Who is your favourite figure skater(s)?
Tessa Virtue & Scott Moir.
8.    What do you love about skating?
Performing.
9.    Tell me about the routine you'll be performing at Rock the Rink?
I skate to "Up Where You Are" by Josh Groban as a tribute to my dad who died six years ago.
10.    What do you like about Special Olympics? How has it changed your life?
Special Olympics has let me meet lots of new people and make many new friends. I like how everybody cheers for each other and is happy when their friends win even if they don't win themselves.
11.    What would you like to say to Tessa Virtue and Scott Moir for inviting you to perform alongside them?
Thank you so much for giving me the chance to show people my skating and also to finally get to meet you, which has been my dream for a long time.
12.    After Rock the Rink, what's next? 
The next round of qualifiers for both skating and swimming.