In honour of Global Week of Inclusion, Special Olympics is celebrating homegrown Champions of Inclusion: Canadians leading the charge for respecting and embracing all abilities – not just in sports, but in the workforce, in schools, everywhere!
All Champions of Inclusion were nominated by the public for how they #ChooseToInclude every day of the year.
Meet this Peterborough Champion of Inclusion, Sarah Jennissen.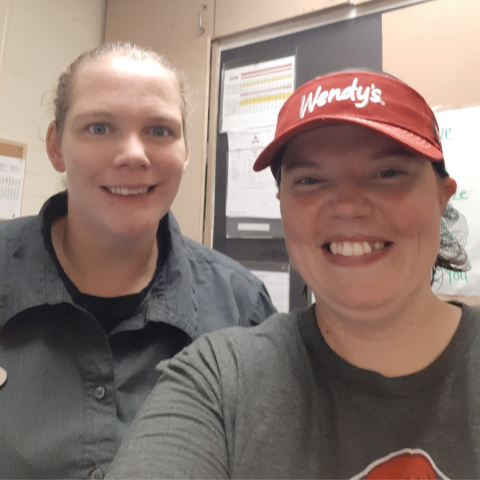 Balancing a work schedule, Special Olympics practices and competitions can be tough for Peterborough's Crystal Cochrane, but her boss at Wendy's in Peterborough always makes it work.
That's why Cochrane nominated Sarah Jennissen as a Special Olympics Canada Champion of Inclusion for Global Week of Inclusion July 20 to 26.
"Sarah supports my Special Olympics activities all the time," said Crystal, who competed in 10-pin bowling at the Special Olympics World Games Abu Dhabi 2019. "She understands my need to attend games, practice and competitions."
Once Cochrane knows her Special Olympics schedule, she logs them in the sign-off book at work – and if something, like a tournament, comes up last minute, Jennissen "always works her best to figure out how I can go," she said.
"Sarah understands how important Special Olympics is to me and she supports me," said Cochrane. "Sarah encourages my participation in Special Olympics along with other things I do."
At work, Cochrane is included as part of the team and has taken on the Health and Safety role.
"Sarah always treats me like an equal and asks my opinion on work-related jobs," said Cochrane. "She respects my ability to do my work."
Beyond the workplace, Jennissen also includes Cochrane in her family life by inviting her to the park for outings and they always find time to go for coffee on the weekends before they start their shift.
"Thanks, Sarah!"