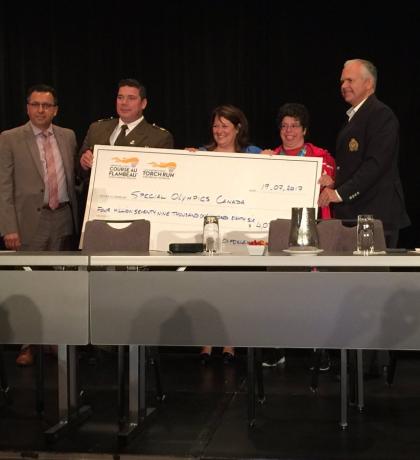 Montreal, QUEBEC, July 19, 2017 - Special Olympics Canada would like to extend our sincerest thanks to the Law Enforcement Torch Run (LETR) in Canada for another incredible year of fundraising. Last year, the LETR raised an astounding $4M for Special Olympics programs in Canada.
The incredible amount was officially unveiled over the weekend at the 2017 Canadian Association of Chiefs of Police (CACP) Annual Conference, held in Montreal, Quebec. Sharon Bollenbach, CEO of Special Olympics Canada was on hand to thank the LETR and CACP for their incredible fundraising efforts and celebrate the partnership between Special Olympics and law enforcement throughout Canada.
"Congratulations to all LETR for your fundraising creativity, but more importantly, thank you for your commitment to Special Olympics. Your fundraising initiatives and support in Canada are helping to change the lives of thousands of Special Olympics athletes across the country. We could not do what we do every day without your vital support," said Sharon Bollenbach, CEO, Special Olympics Canada.
Special Olympics Canada is thrilled with the support from LETR across the country and extremely grateful for the banner year of fundraising initiatives from all law enforcement members in Canada.