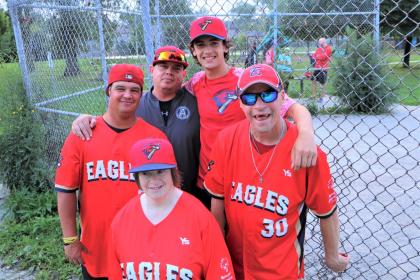 Toronto's Blake Fenwick was introduced to Special Olympics when he was just 15-years-old.
Looking to complete his required community service hours for high school – he only had 10 hours left of the 40-hour requirement – he was connected with the Etobicoke Eagles softball team.
"I was almost done my hours when I started, so I didn't know if it would be a full summer worth of play," he said. "I just loved it from the first time I came out … and I've been coming back for two years after that."
Now 18-years-old and in his first year at the University of Western Ontario, Fenwick is already planning to return for his fourth year of coaching next summer – and hopes to rally some of his friends to join as well.
"It just turned into something that I like to support," said Fenwick. "I like coming out and helping coach and making sure everyone has a good time … we have a lot of fun out here – players and coaches together."
While Fenwick already had experience working with individuals with an intellectual disability from his time at Bloordale Middle School, the Etobicoke Eagles remind him of the power of sport each week.
"Everyone just wants to have fun and just participate," he said. "It's all about fun out here on the diamond."
To learn more about coaching Special Olympics in your community, click here.