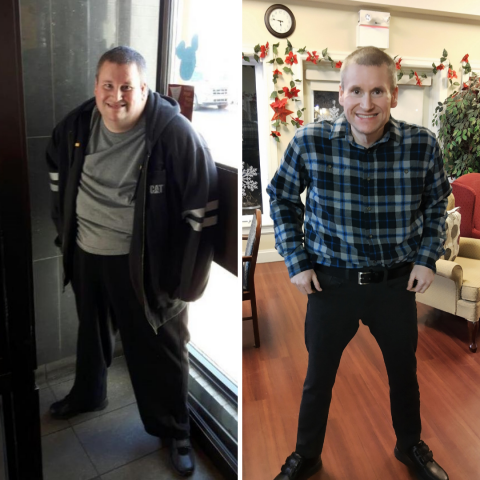 Special Olympics Nova Scotia's Dereck Boutilier always wanted to play floor hockey, but at 302-pounds it just wasn't possible.
He was overweight, diabetic, had difficulty walking – and even tying his shoes.
"It was hard on me … hard to breathe," Dereck said from Cornerstone Community Home, his assisted living residence in Sydney. 
In March 2017, with the help of the Cornerstone staff, he decided to transform his lifestyle.
He went on a diabetic diet and incorporated daily exercise. By October of that year, he was able to join floor hockey. 
Today, he's 140 pounds lighter, no longer diabetic and training hard with his teammates in preparation for the Special Olympics Canada Winter Games Thunder Bay 2020.
"I feel great, I'm happy," said Dereck. 
According to Rose MacEacharn, who's been an administrator at Cornerstone for 23 years, they've never seen such incredible weight loss with a resident.
"We're really pleased and his doctor is ecstatic," said MacEacharn. "His weight loss is going to help him live a long, happy life."
MacEacharn gives all the credit to Dereck: He makes his own lunches, learned how to bake diabetic cookies and never misses a practice or workout.
"It's diet control and his commitment to exercise," MacEacharn said. "He just got so pumped with praise and how well he was doing that he just worked it very, very hard."
Dereck, originally a Special Olympics bowler, is now a multi-sport athlete, not only participating in floor hockey, but also soccer, athletics and bocce.
According to SO Team Nova Scotia floor hockey coach Don Vaters, Dereck is a new person – and  "it all started with Special Olympics."
"Floor hockey and Special Olympics is what pushed him to lose the weight, because he really wanted to play. He didn't have the stamina and he knew it – he was in trouble," said Vaters.
Over the past two years, Vaters witnessed the impressive transformation.
Not only has he improved in the sport – refining his hand-eye coordination, stick handling, mobility and speed – he's also transformed socially and now attends fundraising events and athlete dances.
"His whole attitude in life has just changed," said Vaters. "He's coming out of his shell more and more everyday."
"To see him come from where he was and seeing where he's at today, I am super, super proud of him."
Dereck, of course, is proud of himself and plans to maintain his newfound healthy lifestyle "forever," he said.
SIGN UP FOR THE SPECIAL OLYMPICS CANADA WINTER GAMES NEWSLETTER FOR MORE STORIES