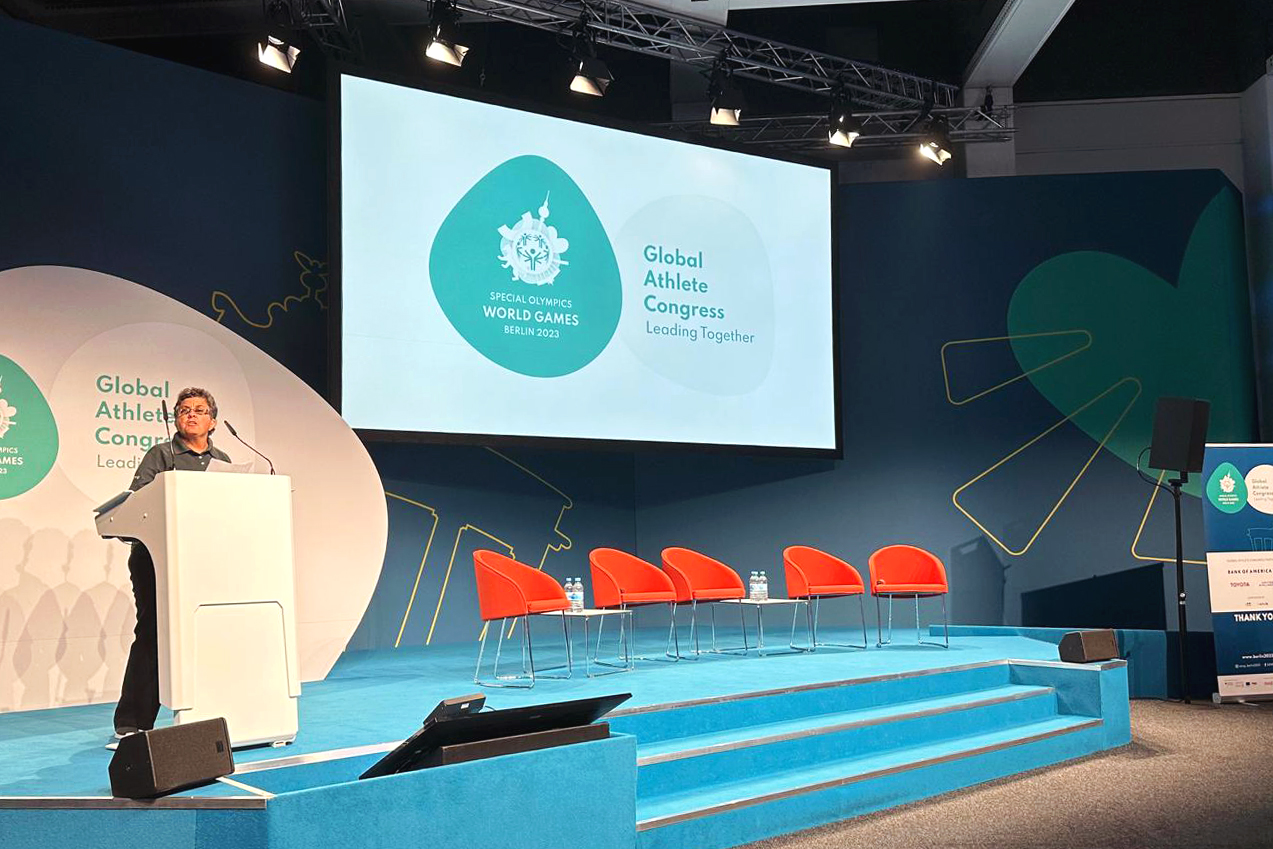 The first Global Forum of Inclusion was hosted this past week in Berlin during Special Olympics World Games. The Forum was created with roots in the goal of the UN Convention on the Rights of Persons with Disabilities (CRPD): the "full participation and inclusion of persons with intellectual disabilities in society." It enabled a direct exchange between participants and government representatives from around the world, leading economists, international academics and researchers, as well as representatives of civil society and international NGOs.
A significant part of the Forum was a Global Athlete Congress where 64 Athlete Leaders and their mentors from all seven Special Olympics Regions shared ideas and projects, they have been working on to lead the way to a more inclusive world.
Topics explored included:
People with an intellectual disability in leadership roles in Special Olympics
People with an intellectual disability as empowered decision-makers
Innovation in accessibility
Changing perspectives and attitudes towards people with an intellectual disability
Inclusion of people with an intellectual disability in the job market
The participating Athlete Leaders from around the globe were selected nearly a year ago to receive grants based on proposals for projects to promote inclusion within their community – since then they've been hard at work, bringing their plans into action. Meet the 4 Canadian Athlete Leaders attending the Global Athlete Congress and learn more about their projects:
Dallas Sorken, Special Olympics Alberta
Solving Volunteer Shortages: Athletes in Meaningful Roles
Special Olympics Canada and programs across the globe were significantly impacted by the pandemic. With in-person programs on pause for more than a year, we faced a critical shortage of volunteers upon a return to the field of play.
In answer to this problem, Special Olympics athlete Dallas Sorken proposed that a new pathway be created for longtime Special Olympics athletes to become program volunteers within their communities. Athletes would receive NCCP Training and then shadow experienced coach mentors in their program.
"I wanted to help get more coaches while also empowering athletes to step out of their comfort zone and get them in more prominent roles that impact the future of our organization," he shares.
Sorken was successful in recruiting and training 6 Special Olympics athletes to become volunteers for his local FUNdamentals youth program. He hopes that next steps will include expanding this new athlete volunteer pathway to other provinces and territories across the country.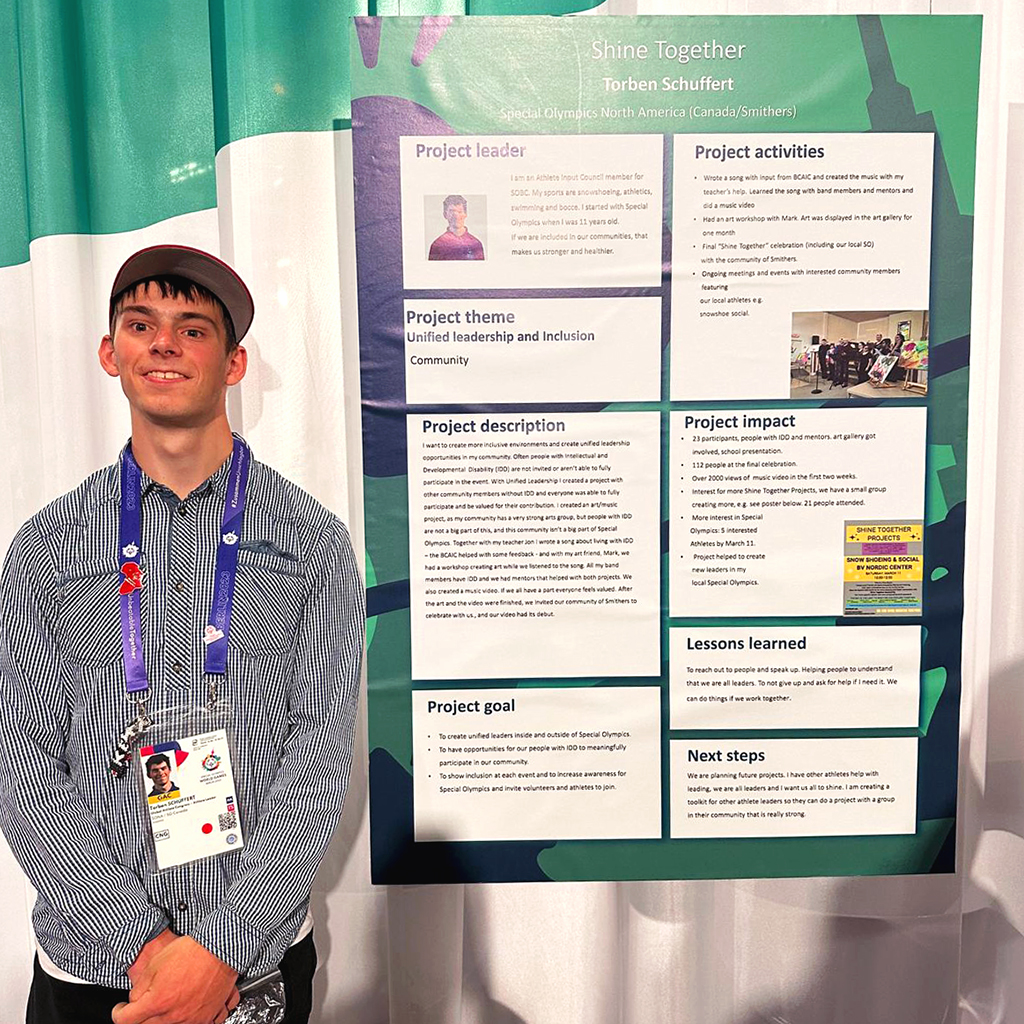 Torben Schuffert, Special Olympics British Columbia
Shine Together: Create More Inclusive Environments
Torben Schuffert had one clear goal with his project: to introduce new people to the Special Olympics movement and demonstrate just how incredible Special Olympics athletes are.
To achieve this, Schuffert decided to harness the power of art and music. He reached out to local musician Jon Bjorgan in his community of Smithers, British Columbia, and local artist Mark Thibeault. Together they hosted an art class for athletes and mentors, who then showcased their art in a local gallery to raise awareness and understanding of the leadership potential of people with intellectual and developmental disabilities. They also wrote a song to celebrate and spread the power of inclusion, called "Shine Together." Schuffert and a group of friends and fellow athletes came together to film the music video.
"It was a lot of fun, a lot of people wanted to be a part of making it. I hope the people who listen to it are inspired to be kinder and become a part of Special Olympics too," he shares.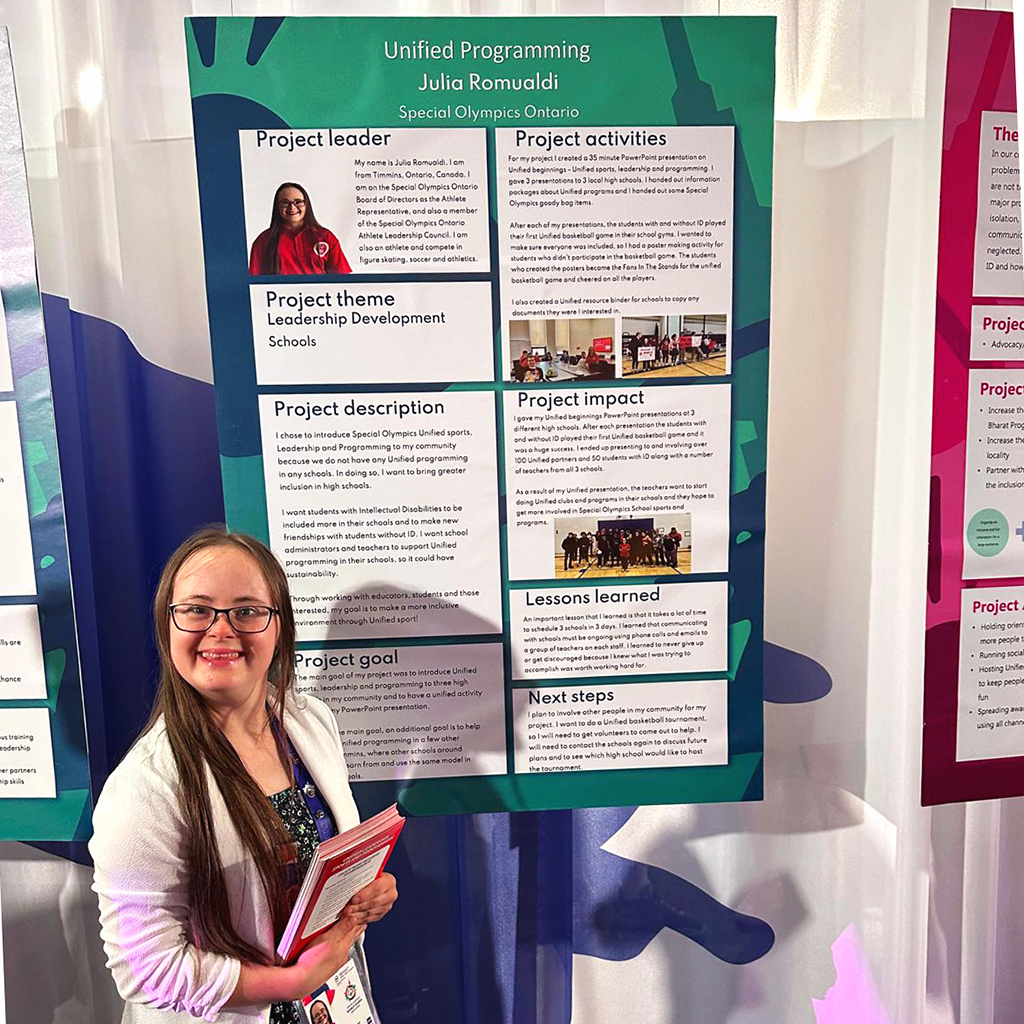 Julia Romualdi, Special Olympics Ontario
Unified Leadership: Create More Inclusive Environments
Julia Romualdi's project is about introducing Unified Leadership and Unified Sports to high schools in her community of Northern Ontario, which currently hosts no programs of the kind.
Unified Sports joins people with and without intellectual disabilities on the same team. It was inspired by a simple principle: training together and playing together is a quick path to friendship and understanding.
"It's all about bringing people together to learn and make new friends through sport," she shares.
In the last year since receiving her project grant, Romualdi travelled to 3 schools and presented a case for running a Unified Sports program to students and faculty, followed by a Unified basketball game with attendees after her presentation.
"By playing sports together, they all got to experience what I was sharing with them in my presentation. We all learned about respect, and students with ID were included and their voices were heard," Romualdi explains.
All 3 schools are planning to start Unified programming in the Fall 2024 semester as part of the new school curriculum, which will be the first expansion of Unified Sports programs into Northern Ontario.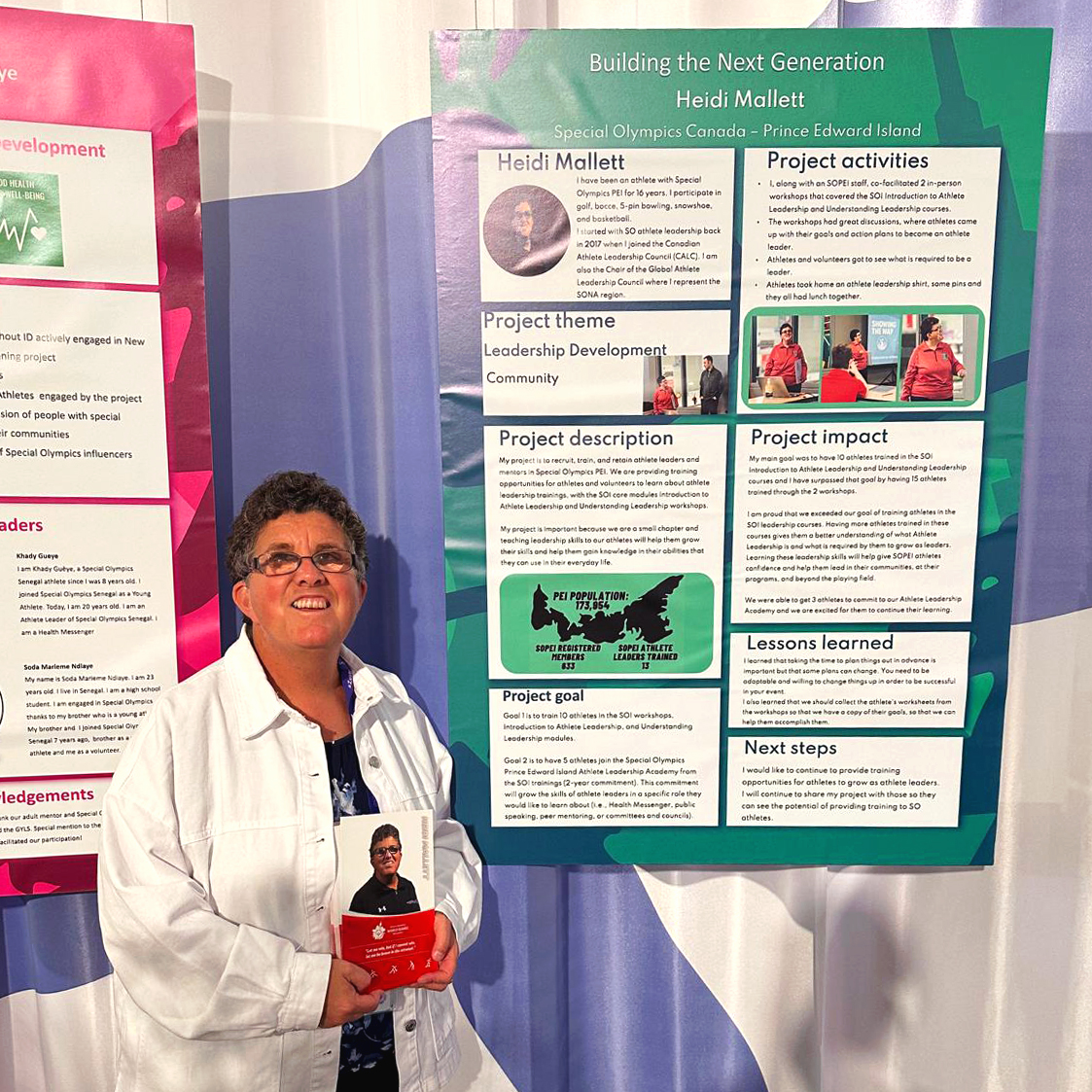 Heidi Mallett, Special Olympics PEI
Building the Next Generation: Athletes Trained in Leadership Curriculum
In her 16 years as an athlete, Heidi Mallett's Special Olympics experience has been as much shaped by participation in leadership programs as in sport.
She has an impressive resume filled with leadership and advocacy experience, including sitting on the Special Olympics PEI Board of Directors as the Athlete representative, serving as Chair of the Canadian Athlete Leadership Council, and was also selected to represent all of Special Olympics North America on the Global Athlete Leadership Council in 2021.
"I like advocating for people who have disabilities and for people who cannot speak for themselves," she says. "I like helping people and I like advocating for people's rights."
Mallett's goal for her project was to share that feeling of empowerment with more athletes within her community by recruiting them for training through the Athlete Leadership program. She personally recruited 15 athletes and presented education sessions following the SOI Athlete Leadership curriculum.
"I'm proud to say that our Athlete Leadership program in PEI is growing, and these athletes will use their voices to advocate for themselves and others."