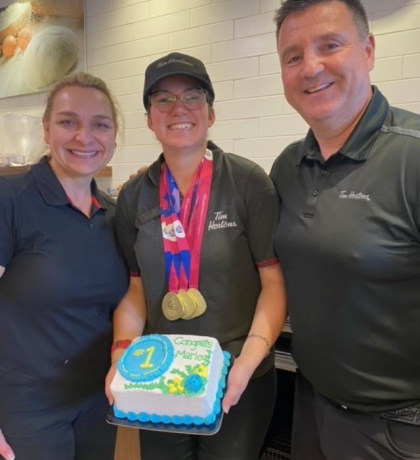 Marley Gayler understands the power of being included as part of a team – both on the field of play and in the workforce. She's been a Special Olympics athlete for nearly 15 years and employed by Special Olympics Canada national partner, Tim Hortons, for just over 7. 
For Marley, her role at Tim Hortons is not just a job; it's a source of fulfillment and purpose. Her passion for her work is palpable as she describes the different responsibilities of her job that bring her joy. 
"I unload the truck twice a week and I find it fun seeing all the stuff that's ordered. I like organizing and rearranging the freezer. I like making coffees for the mobile orders that come in and then socializing with our regular customers. I am proud that I keep the water dish filled up outside for all visiting dogs," she shares. "And I am proud that I will always take on new tasks and keep working on them until I can do them to the best of my ability."
Marley's years of experience with Special Olympics has imparted her with values and skills that seamlessly translate into her work life. 
"Training for my sports with Special Olympics has taught me to be disciplined and stick to a routine, and that has helped with my daily routine at work," she shares. 
According to a study conducted by Bain & Company, the general Canadian population of individuals with intellectual disabilities has an employment rate of only 28%. In stark contrast, Special Olympics athletes have achieved a remarkable 44% employment rate, signifying a substantial improvement in their access to the job market. 
In Marley's view, workplace inclusion isn't just a concept; it's a fundamental principle that underscores the success of individuals with diverse abilities. 
"My work gives me a sense of purpose and pride, and everyone, no matter if they have a disability or not, should be treated with respect and given a chance. Earning an income gives me the freedom to purchase things and live a more fulfilled life. Having a job (being included) lets everyone contribute and grow."
This past summer, Marley took time off from her job at Tim Hortons to travel to Germany to compete at the Special Olympics World Games Berlin. Her hard work and dedication paid off, and she returned home with an impressive haul of 3 gold medals and 1 silver in powerlifting. Upon her return, she proudly showcased her well-deserved medals during her first shift back at Tim Hortons. In a heartwarming show of support, her team at work surprised her with a celebratory cake, congratulating her on her remarkable success. 
"We can all achieve great things when we have a great team behind us," Marley reflects.
------
October is Disability Employment Awareness Month – an annual reminder of the pressing need for equal employment opportunities for individuals with disabilities. It is a time to recognize and celebrate the unique talents and contributions that individuals with diverse abilities bring to the workforce. By fostering a culture of inclusivity and promoting workplace diversity, Disability Employment Awareness Month encourages not only economic empowerment but also societal transformation, where individuals of all backgrounds are treated with respect, dignity and given the chance to contribute their skills and talents. It serves as a catalyst for change, driving home the message that inclusivity in the workplace is not only a matter of equality but a cornerstone of progress and collective success.