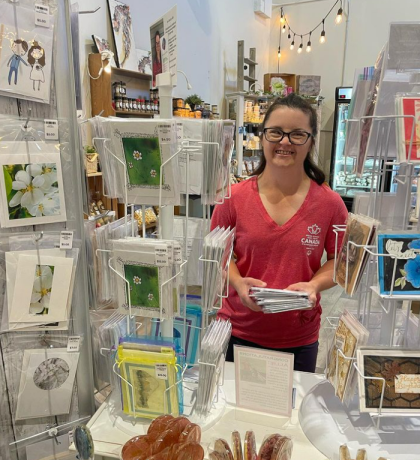 In the spirit of Disability Employment Awareness Month, we celebrate the achievements of Allie Price, a Special Olympics athlete who not only excels in her sport of golf but has also made significant impact in the workplace through her 5 years of employment with Safeway. 
"One of the values I learned from Special Olympics is how to be a part of a team, and that has helped me succeed at Safeway," Allie explains. 
The discipline and commitment learned in her sport training has translated seamlessly into her role at Safeway, where she is known for her strong work ethic and delightful customer service. 
"I enjoy stocking the shelves with pop and chips, but my favourite part of my job is meeting our customers," she shares.
Another source of pride for Allie is her role as a spokesperson, a skill she sharpened through her experience with Special Olympics. 
"I am an ambassador for Special Olympics and I often have to be a spokesperson. Now at Safeway, I am comfortable speaking to people," she proudly states. 
Allie's story highlights the significance of workplace inclusion. Her passion for contributing to her team at work and earning a living for herself is a testament to the power of inclusive employment.
"Workplace inclusion is important because people with disabilities feel like they belong. I like earning money, and we all have a better life," she emphasizes. 
In addition to her role at Safeway, Allie is a small business owner who has successfully turned her childhood passion into a thriving business. Her love for art has been evident since an early age, and she decided to turn this passion into a business called Art Cards by Allie. Specializing in watercolor art, her handcrafted cards are a source of joy for those who encounter them on the shelves of The Squiggly Pig, a shop in their community of Airdrie, Alberta. 
As we celebrate Disability Employment Awareness Month, let Allie's journey inspire us to create workplaces that embrace diversity and empower individuals of all abilities to thrive.  
------
October is Disability Employment Awareness Month – an annual reminder of the pressing need for equal employment opportunities for individuals with disabilities. It is a time to recognize and celebrate the unique talents and contributions that individuals with diverse abilities bring to the workforce. By fostering a culture of inclusivity and promoting workplace diversity, Disability Employment Awareness Month encourages not only economic empowerment but also societal transformation, where individuals of all backgrounds are treated with respect, dignity and given the chance to contribute their skills and talents. It serves as a catalyst for change, driving home the message that inclusivity in the workplace is not only a matter of equality but a cornerstone of progress and collective success.