Help make dreams come true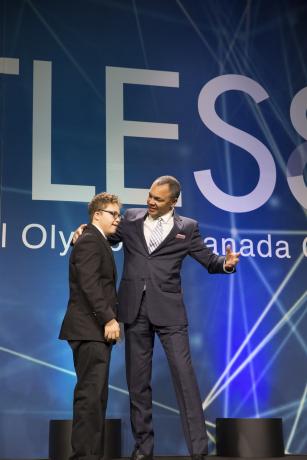 DRAFT AN ATHLETE BY CLICKING HERE
Draft an Athlete is a program that allows supporters of the movement to fund a Special Olympics athlete's journey to a regional, provincial, national or world competition. The cost of sending athletes to competitions is high. Through the Draft an Athlete program, more athletes are able to attend a competition through direct support.
Thousands of Special Olympics athletes from around the world will gather in Abu Dhabi and Dubai this March to display their athleticism and celebrate the spirit of Special Olympics during the 2019 Special Olympics World Summer Games, the movement's flagship event.

From March 14 – 21, 2019, 7,000 athletes and 2,500 coaches from 170 countries will gather in Abu Dhabi and Dubai for what will be the largest sport and humanitarian event anywhere in the world in 2019.

The 2019 Special Olympics World Summer Games, with the unparalleled spirit, enthusiasm, teamwork, joy and displays of courage and skill that are hallmarks of all Special Olympics events, will feature nine sport disciplines across two locations in United Arab Emirates. The Games are expected to bring in more than 50,000 spectators and 20,000 volunteers.

Special Olympics Canada will be sending a team of 164-members, with 109 athletes, 36 coaches, 18 mission staff, 1 team manager, 1 assistant Chef de Mission and 1 Chef de Mission as well as Honorary Coach, Olympic Rower, Marnie McBean.

Athletes on Special Olympics Team Canada 2019 commit to an enhanced weekly training regimen that includes conditioning and training, committing to a healthy lifestyle, attending all team functions and being role models for other Special Olympics athletes, both on and off the field of play. They are supported by a tremendous network of resources, leading up to and during the competition, including; mission and coaching staff, a team physician, mental trainer, fitness instructions, nutritionists and motivational speakers.

Guests at LIMITLESS: The Special Olympics Canada Gala have an opportunity to support Special Olympics Team Canada athletes competing in Abu Dhabi and Dubai this March by symbolically Drafting an Athlete this evening for $1,500. You can also follow all the action during the Games via Special Olympics Canada's website, www.specialolympics.ca and social media accounts @SpecialOCanada.
Thank you to the individuals and organizations who supported the Draft an Athlete program
2274316 Ontario Inc. 
Aaron Zifkin
Alan Dark
Alex Murphy
Alim Bhanji
Alison Popp
Allen Jefferson
Amanda Gaskey
Andrew Barnicke
Andrew Flaherty
Andrew Vettese
Andy Cleghorn
Annesley Wallace
Barb Schechter
Bart Yabsley
Blaine Woodcock
Brian Burke
Bruce Burrows
Cameron Murphy
Casey Field
Cassandra Ma
Chantal Dugas
Cheryl Bernard
Christine Magee
Cliff Feldstein
Clinton Keay
Cris Hopkinson
Cynthia Devine
Dan Golberg
Dany Beauchemin
Dara Cowper
Darcy & Suzane Curran
Dave Reddy
David Amber
David Christensen
DAVIES WARD PHILLIPS & VINEBERG LLP
Dean Bender
Dean Hillier
Denis Frappier
Diana Matheson
Drazen Lalovic
Edward Mayle
Elaine Lui
Elliot Kohn
Ellis Jacob
Evanka Osmak
Firas Kitmitto
George Mavroudis
Greg  Bandler
Greg Belton
Greg Tsagogeorgas
Home Hardware Stores Ltd.
Honda Canada Inc.
Honor McLachlin
Jack Szwez
Jake Bullen
Jennifer Walker
Jim Dickson
Jocelyn Flanagan
John Scullion
Juleah Lunden
Julien Masson
Kath Hammond
Kelly Kerr
Ken Volden
Kevin Fancey
Kevin Morris
Kim Forgues
Kit Blackburn
Kyle Shewfelt
Larry Yunger
Laura Lapierre
Leslie McLean
Linda Plumpton
Louis Bastien
Mark Miller
Martha Eggenberger
Mary Vitug
Matthew Turner
Michael and Jane Lay
Michael Hajdu
Michael Medline
Mike Cegelski
Mike Lamontagne
Mike MccLenahan
Mike Trojan
Mohit Grover
Nancy Love
Nathalie Cook
Niyousha Zarinpour
Osler, Hoskin & Harcourt LLP
Pam Lewis
Pat McEleney
Paul Atkinson
Paul Graham
Paula Sherk
Peter Sucharda
Production Resource Group Canada Ltd.
Rita Benson
Rod Malcolm
Ryan Voegeli
Sam Kohn
Sam Thompson
Sandra Rees
Sandra Sanderson
Sandy Rai
Sara Nixon
Sharon Mittmann
Shawn Redmond
Sidney Jefferson
Sonya Stirpe
Stacey Grant-Thompson
Staples Canada
Stewart Johnston
Stewart McKelvey
Susan Froese
The Annual Foundation
The Paul and Margy Campbell Foundation
Tom Bradfield
Vivek Sood
Volaris Group Inc.
William Buchan
Wolf Juchem
Wolseley
Yatendra Killer