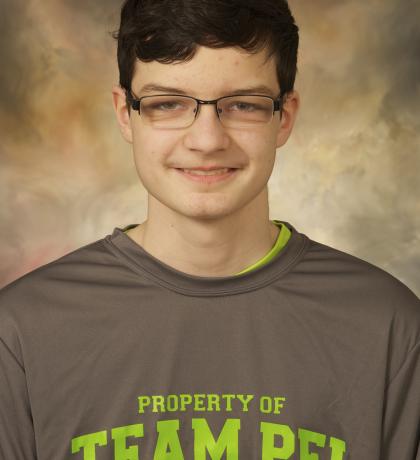 As the youngest member to ever join Team PEI, Keegan Waite is small but mighty. Even at his young age, he is often referred to as a brick wall and comes up with huge saves for the floor hockey team.
Keegan was very excited to be a part of Team PEI for the first time at the Special Olympics Canada 2016 Winter Games​, and couldn't wait to start competing. The floor hockey team had a fantastic week at the Games in Newfoundland, winning the Gold medal in their division with their hard work, teamwork, and success.​
Last year, Keegan made another significant contribution to his team. When members of the PEI floor hockey team decided to adopt "the PEI Warriors" as their new name, Keegan contacted the SOPEI office to ask if he could help design the logo for the team's jerseys. Keegan was encouraged to send a drawing as a starting point.
Working off of Keegan's idea, Team PEI's Chef de Mission, Matthew McNally, approached a local graphic designer, Ashley Cameron, to clean up the image a bit. When Keegan saw the final product, he was thrilled and beyond excited to share this new logo with his teammates!
Four months later, at the next meeting in front of his teammates and supporters, Keegan revealed the new logo for the PEI Warriors. The room erupted in applause, with high fives all around, and a big pat on the back for Keegan.