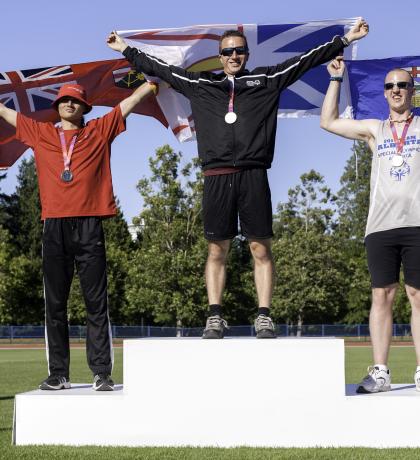 Chris Dugas is a Special Olympics Newfoundland & Labrador athlete who shines in his home club and throughout his province as a true athlete and athlete leader. Chris is a founding member of his Special Olympics Club, Bay St. George, and has been involved with Special Olympics since 2008.
Chris trains extremely hard under the guidance of his coach; he also takes the initiative to train on non-Special Olympics days; especially when training for competitions. At the 2013 Canada Summer Games, Chris attended for athletics where he took home the only medal for track for Newfoundland & Labrador; this was a huge accomplishment and celebrated widely. This was Chris' second experience at Canada Games. He has also participated in five Special Olympics Canada Games. Chris thrives on competition and always works to better his time. Chris's ultimate goal is to attend a Special Olympics World Games.
Chris is always looking to improve his athletic skill. When his club began to offer swimming, he immediately took to the pool and encouraged others to do the same. Chris's real demonstration in improving his athletic skill is shown not just through his quick adaptation to new sports, eagerness to try or his numerous gold medals in the running event, but shines clearly when you look at his long jump and shot put competition. For the past five years, Chris has consistently made personal best records when competing in these events.
Chris is well-known in his community for his passion for Special Olympics and belief in the opportunities it provides to people like himself and his teammates. Chris is very active in his Special Olympics club; when he is not training, he is helping other athletes do their best. Chris is extremely supportive of his teammates and cheers them on at all times. Chris is also known to help his coach work with the elementary school and junior high school generic track program, providing guidance and sharing his experiences.
Chris exemplifies the true spirit of Special Olympics in many different ways. Chris has a strong desire to include everyone, to ensure that everyone involved is having a good time and enjoying the experience. When at the selection camp for the Special Olympics Canada 2016 Winter Games, Chris noticed a couple of athletes who were always off to the side. He was concerned that they were not participating. First, he approached them and chatted to them and asked if they would like to join in the activity. When they declined, he promptly found a coach and reported that he felt these individuals were not enjoying themselves, and asked if there was some way we could change the activity so they felt more included.
Chris is often found championing his teammates; he is as proud of their accomplishments as he is of his own. He is vocal about the abilities of his teammates, whether they are his Team NL members or his home club members. He is wonderful at seeing the abilities of the person, rather than their disabilities.
Chris loves camaraderie and crowds. When a group is gathered, he is quick to lead them in a team cheer, talk to individuals and circulate amongst the group. He enjoys speaking in front of a group and always points out how much he loves Special Olympics and why someone should be involved. His favourite saying is, "Special Olympics is my family; they support me and encourage me and help me do my best."