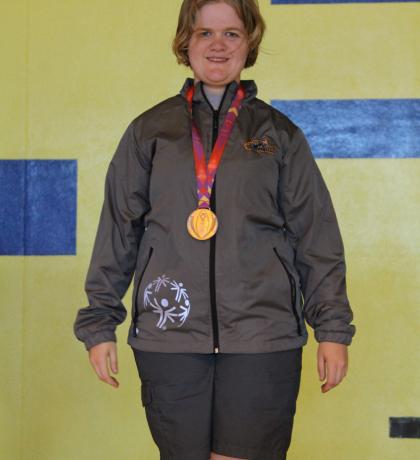 Special Olympics BC – Delta athlete Courtenay Rekis says being involved with Special Olympics has helped her develop confidence, stay fit, and make new friends.
Rekis has been with SOBC for almost ten years and says her favourite sport is swimming because she loves being in the pool and part of a team.
"It's fun and I get to meet new people and do an activity that I really like to do," Rekis says.
Rekis has made many friends through SOBC. She loves meeting athletes at competitions and talking with her teammates on Skype while she is relaxing at home.
"Special Olympics has done so much for my social life. I used to not be a social person and now I am a social person. I can go out and talk to people and I am not judged on having a disability," Rekis says.
One of Rekis's most memorable moments with SOBC was competing at the Special Olympics Canada 2014 Summer Games in Vancouver.
"It was home turf and I think I did really well in my competitions. I also met new people and had a great time!" Rekis said.
Rekis won two bronze medals and two silver medals at the National Games in Vancouver.
"It felt really good because you work really hard to show what you can do," Rekis said.
Rekis's mother Anne McCaw says watching Rekis compete has been a wonderful experience.
"To sit in the stands watching her at major competitions is almost unreal to me. I am usually on the verge of tears all the time; so very proud of how she has overcome so many negatives and challenges to get to where she is today," McCaw says.
Rekis has a job at a daycare where she looks after children, cleans, and leads activities.
"It's a lot of fun!" she says.
Rekis says the social skills and confidence she developed through SOBC helped her prepare for the job.
"I feel like myself when I am with Special Olympics and it motivates me to be a better person," she says.
As an athlete, Rekis prides herself on her strong work ethic and being a good teammate. She is thankful to her great coaches who motivate her to become a better swimmer.
"I love my coaches! They give me feedback and are really inspiring," she says.
Rekis says her goal is to compete at National Games again. She plans to make this happen by working on her swimming technique, keeping fit, and making sure she attends all her team's practices.