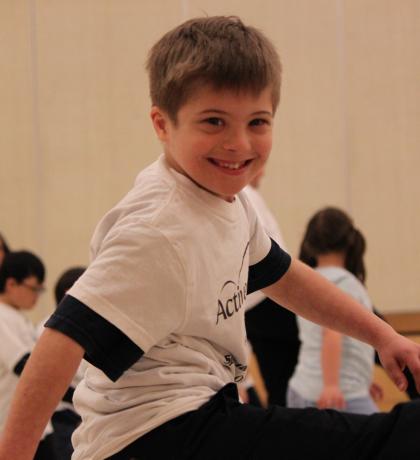 Watching her son Alexander participate in FUNdamentals, Stella D'Silva knew that this Special Olympics program was going to do wonders for him.
Before he was enrolled, he had struggled with team sports. "As early as junior kindergarten, he just wouldn't play with other children," she remembers. When she gently probed why he wouldn't, his reply was simple: "I can't do it."
"It must be pretty difficult for them to feel that way, that they're not good at something," she says. And yet, this mom persisted, because on some level she knew he could participate. Alexander has Down syndrome, but overall, "he is pretty high-functioning." Eventually she and her family learned of FUNdamentals, one of two Special Olympics youth programs that targets children ages seven to 12 years and that introduces the value of positive movement experiences, the importance of nutrition, and sport-specific activities aimed at improving a child's basic motor and sport skills.
At a time when only an estimated ten percent of Canadian children are getting enough daily exercise, we're committed to offering children and youth with an intellectual disability the development opportunities that will set them on the road to becoming active for life.
Since launching widely across the country in 2010, both FUNdamentals and Active Start programs have seen significant growth, indicating a real need for this type of program. Active Start's enrolment numbers have grown by 84% while registrations in FUNdamentals have increased by a healthy 25%.
"Now when his friends talk about how they went to a hockey or soccer practice, Alexander can say that he has his own program too. He feels that he belongs," says D'Silva.
Enrolled in Special Olympics programs for a little more than three years, this ten-year old is really flourishing. "FUNdamentals gave Alexander a lot of confidence. He just loves it," D'Silva says. "Halfway through the week he always begins to ask, 'when are we going next?'"