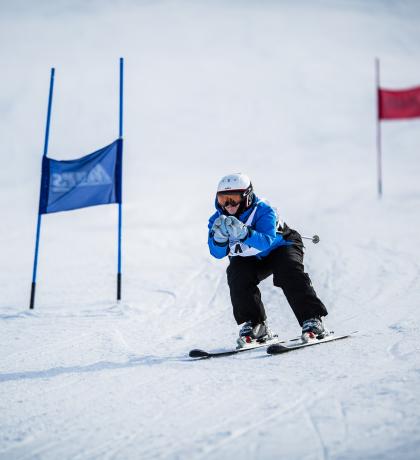 TORONTO, ON – Special Olympics Ontario is pleased to announce Olympian Brian Stemmle will attend the inaugural 24h BLUE MTN fundraiser, presented by Freedom 55 Financial, February 24-25, 2018 at Blue Mountain resort in Collingwood.

The event features 24-hours of relay skiing in support of Special Olympics and the Collingwood General and Marine Hospital Foundation.

"It's going to be a great event, a special time at Blue Mountain," said Stemmle, a four-time Canadian Olympian, who has been an ambassador for the Special Olympics Ontario for the past 25 years. "The Special Olympics means a lot to me, I'm coming home early from the Olympics to be at this event. When I see the (Special Olympic) athlete's energy and positive outlook, I tell you we can learn a lot from them."

Hosted at Ontario's premier ski resort, 24h Blue MTN promises to be an unforgettable event, starting at 12 noon on Saturday, Feb. 24th, as teams of six to 12 skiers and snowboarders challenge each other over the 24 hours of the event. Companies and individuals are invited to register as a team or solo, to ski or snowboard and begin fundraising for this unforgettable event. Alternatively, supporters can also donate at 24hBlueMtn.ca.

"We are delighted to have Brian Stemmle, a member of the Canadian Ski Hall of Fame, attending the first 24h BLUE MTN event," said Glenn MacDonell, President and CEO of Special Olympics Ontario. "When you think about what Brian's commitment to Special Olympics Ontario and Canadian skiing, it's a great addition for us."

Stemmle, was a member of the Canadian national team from 1985 to 1999, and represented Canada at the 1988, 1992, 1994 and 1998 Olympic Winter Games. During his 15 years of international competition, the Aurora skier competed in 93 FIS Alpine Ski World Cup races, garnering three podium finishes, and placed in the top 10 on 15 occasions.
Stemmle is working for the CBC as a ski analyst at the 2018 Winter Olympics in February in Pyeongchang, South Korea. But is pleased to be flying back to be the ambassador for the 24h BLUE MTN event.
Date: February 24-25, 2018
Location: Blue Mountain, Collingwood
Time: 12:00 PM -12:00 PM (24 hours)
About Special Olympics Ontario

Special Olympics Ontario is part of a dynamic worldwide charitable organization dedicated to promoting a more active and better quality of life for people with an intellectual disability. Through sport, the organization is building communities of acceptance and inclusion for all people.
About Collingwood General & Marine Hospital Foundation

Serving the Georgian Triangle, Collingwood General & Marine Hospital Foundation is an acute care hospital providing emergency care, diagnostic services including lab, imaging and cardio respiratory therapy, as well as two inpatient units (medicine and surgery). In addition, CGMH also provides care in specialty areas including obstetrics, orthopedics, intensive care, and surgery, as well as providing outpatient care including dialysis and a wide range of clinics including mental health and rehabilitation services.
For more information, to register or donate visit 24hBlueMtn.ca.