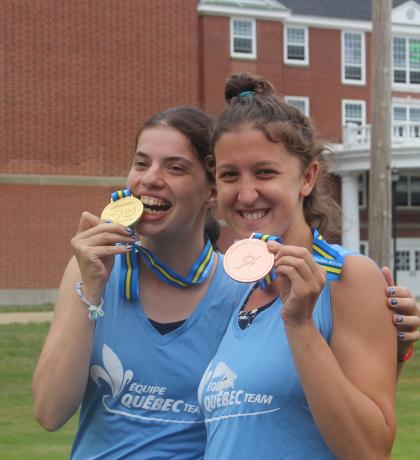 Upcoming Events for August 3, 2018
• Third day of competition for all sports with the exception of powerlifting, which wrapped up with medal presentations yesterday
• First day of competition for rhythmic gymnastic athletes
• Final day for Healthy Athletes screenings from 9am to 5pm at the Schwartz School of Business
• Medal presentations continue for athletics, and swimming
• Medal presentations for golf will take place
• The featured evening activity is at the track, with the 100m races
• PLEASE BE ADVISED – There will be a scheduled break during afternoon competition between 1-4 pm for outside sports due to the heat

Highlights from August 2, 2018
• Medals for powerlifting were handed out, as well as some athletics and swimming
• Athletes with competition outdoors were given respite from the heat in the afternoon while competition was suspended due to the ongoing heat advisory
• Friends and family were treated to a BBQ and some evening entertainment at a local school

Interesting Facts
• All powerlifting athletes from Alberta received medals in all of their events, including Scott Pagenkopf who is attending his first National Games. Scott squatted a personal best of 185kg and won a gold medal (he can also deadlift an astounding 500lbs!). Alberta Athlete Christine Sullivan swept her division and won gold in all of her events
• Team Newfoundland and Labrador soccer athlete Shaughn Connors has lost 50.5 pounds training in the lead up to these Games. He says it makes him feel "amazing!"
• Team PEI softball athletes have two members of the team who attended the first National Summer Games that Nova Scotia hosted in 1994! These Games will be one of those athletes, Tommy McGuigan's, 17th National Games!
• Healthy Athletes has screened over 600 athletes at the Games over it's first two days of screenings
• Team Halifax and Team Ontario went into double overtime during their basketball game. Ontario came out on top, winning 27-24.