$625,000 raised in 2023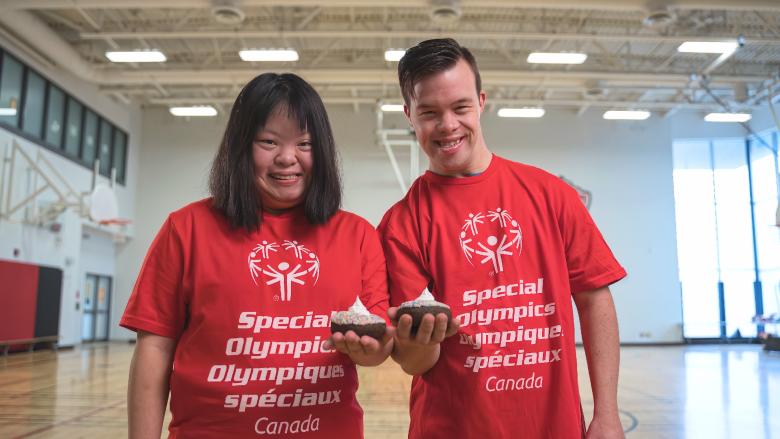 A big, warm thank you – once again – to Tim Hortons and Special Olympics supporters across Canada who indulged for inclusion last weekend.
We are thrilled to share that nearly $625,000 was raised through the Special Olympics Donut, setting a new record for a Tim Hortons fundraiser in support of Special Olympics Canada! 100% of the funds raised will support community sport programming for thousands of athletes with an intellectual disability across our country.
Together, we're making a more inclusive Canada!
#ChooseToInclude
THANK YOU!
This February 3-5, will you
#ChooseToInclude?
Special Olympics Canada has once again partnered with Tim Hortons to create the limited edition Special Olympics Donut, available from February 3-5. 100% of the proceeds from sales of the donut will go directly to local Special Olympics community programs, supporting thousands of athletes with an intellectual disability across Canada. 
Tim Hortons has been a proud partner of Special Olympics Canada since 2016 - from sponsoring youth programs ActiveStart and FUNdamentals, to sending gift cards to Special Olympics activities across the county, supporting National Games and of course, creating a Special Olympics donut to raise funds and awareness for the movement.
Like Special Olympics, Tim Hortons understands the power of inclusion - and its ability to change lives. Tim Hortons has hired many individuals with an intellectual disability at restaurants across the country, including many Special Olympics athletes! They truly are a place for everyone.
We can create a better tomorrow when we #ChooseToInclude today. 
Photo Challenge
Stay tuned for the announcement of our Photo Challenge winners at the end of February!
Follow Special Olympics Canada