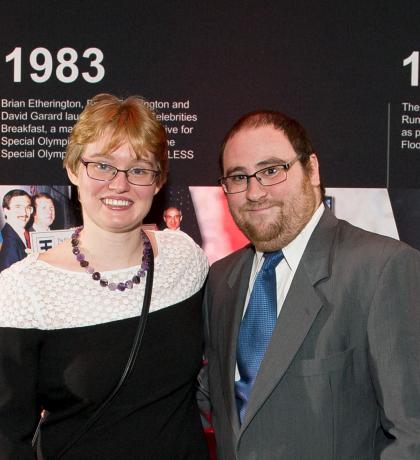 The 2018 Special Olympics Canada Awards Night at Toronto's St. Lawrence Centre on Thursday November 29 was an evening of celebration for athletes, volunteers, partners and supporters across the country.
Watch the inspiring event in its entirety in the video below, including amazing co-hosts Vic Rauter from TSN and Gaetan Michaud from Special Olympics Yukon, as well as the acceptance speeches from all award winners, including Male and Female Athlete of the Years, Tyler Hadded from Special Olympics Saskatchewan and Ellen MacNearney from Special Olympics PEI.
Congratulations to all the awards winners and thank you for your unwavering support of the Special Olympics movement.
View photos from the event here.
Special Olympics Canada's 2018 Award Winners:
Male athlete of the Year – Tyler Haddad, SK
Tyler has been involved in Special Olympics Saskatchewan for 14 years, competing in soccer and floor hockey. At the 2017 Special Olympics Saskatchewan Provincial Summer Games in Moose Jaw, his soccer team won the gold medal and qualified for the Special Olympics Canada 2018 Summer Games.
Female Athlete of the Year – Ellen MacNearney, PEI
Ellen has been an athlete with Special Olympics for 10 years, competing in swimming, cross-country skiing and other community sports. Ellen is a force to reckon with in the pool - at the last two Provincial Games she came home with 12 gold medals.
Male Coach of the Year – Paul Turner, ON
Paul has been a member of the Special Olympics family for 40 years, coaching floor hockey, softball and soccer. His most recent major game result was a silver medal in floor hockey at the 2017 Special Olympics World Winter Games in Austria.
Female Coach of the Year – Rosemary Ryan, NL
Rosemary has been a coach with Special Olympics Newfoundland & Labrador for 10 years, sharing her expertise in athletics, snowshoeing, cross-country skiing and curling. Rosemary leads by example in whatever she does - she's always the first one at a competition or practice and the last to leave. She will also be representing Canada as an associate coach at the 2019 Special Olympics World Summer Games in Abu Dhabi.
Team of the Year – Halifax Warriors, NS
The Halifax Warriors have been playing basketball together for six years and have had many successes over the years. The team went undefeated at the 2017 Special Olympics Nova Scotia Provincial Summer Games and qualified to represent Nova Scotia at the Special Olympics Canada 2018 Summer Games.
Jim Thompson Award – John & Dorothy Wikstrom, SK
John & Dorothy have been involved with Special Olympics for almost 30 years. They have truly gone above and beyond as they are completely dedicated to the Special Olympics movement in Saskatchewan. Whether coaches, committee members, fundraisers, or community advocates, John and Dorothy have continued to support athletes and the Special Olympics movement as a significant part of their lives.
Frank Selke Jr. Fundraising Volunteer of the Year – Mark Milliere, ON
Mark has been involved with Special Olympics for more than 30 years. Under his leadership, he's helped drive SOC's signature fundraising event LIMITLESS to new heights. As Chair and then Co-Chair (2014 - present) of the Gala, he helped rebrand and enhance the event, while improving net fundraising results by more than 400 per cent in 2017. LIMITLESS continues to grow at an impressive rate.
Dr. Frank Hayden Athlete Lifetime Achievement Award – Wayne Morton, ON
For 36 years, Wayne Morton has dedicated his life to being an outstanding role model and advocate for people with intellectual disabilities. Wayne has participated in 11 different sports and has represented Canada at 4 Special Olympics World Summer Games in swimming. Wayne is also an avid fan of his fellow athletes when he is not competing himself and loves to help his teammates in need.
The Harry "Red" Foster Award – Mark, Paul and Sean Etherington, ON
The Etherington brothers have been advocates for Special Olympics for more than 30 years. In 2002 they created motionball, a National not-for-profit organization that raises funds and awareness for the Special Olympics Canada Foundation (SOCF). Since then, they have raised more than $10M for Special Olympics Chapters, SOCF and in 2017, donated $1.5M to Special Olympics in Canada. motionball is now in 20 cities within 8 provinces and boasts three major events: motionball gala, Marathon of Sport and motionballU. They also work to drive attitude changes and advocacy through the #nogoodway campaign to end the use of the 'R' word.
Rob Plunkett Law Enforcement Torch Run (LETR) Award – Barry Kross, BC
Interim Chief Officer Barry Kross has been a passionate and dedicated supporter of the British Columbia LETR and Special Olympics British Columbia for more than 25 years and has been on the British Columbia LETR Executive Council since 2013. Barry provides leadership within his organization (Metro Vancouver Transit Police), making the LETR a priority community organization. For the past four years, Barry has organized a golf tournament, which has raised more than $45,000 to date. In addition to the golf tournament, Barry personally champions and participates in other LETR fundraising events, including the Polar Plunge, Torch Run and Over-Time drive events.