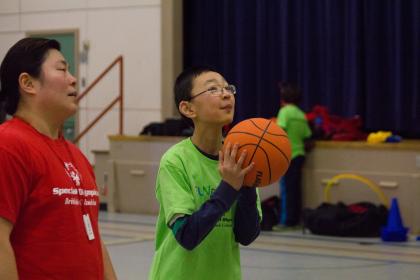 Special Olympics Canada offers child and youth programs designed to help children with an intellectual disability develop basic motor skills and sport skills through fun and positive movement experiences. Special Olympics promotes opportunities to develop physical fitness, demonstrate courage, experience joy, enhance skills and create friendships.
FUNdamentals, along with Active Start, is one of two initiatives developed by Special Olympics Canada for young athletes. FUNdamentals is a continuation of the Active Start program for athletes with an intellectual disability ages 7-12. This program transitions from basic movement skills to basic sport and physical literacy skills while maintaining an atmosphere of fun and meaningful interaction. This program also promotes specific sport education, proper nutrition, and social inclusion through participation in positive sport environment.  The skills learned in this program provide support for everyday activities as well as a base for Special Olympics sports training and competition as athletes grow older.
Age: Seven to twelve
Priority: Development of Fundamental Movement Skills
Objective: Physical Literacy
Skills: Basic Sport Movement Skills, ex: kicking, throwing, catching, striking, dribbling, etc.
FUNdamentals focuses on developing basic sport skills while creating a level of enjoyment for physical activity in young athletes. Through these ideals, we hope that this will encourage athletes to live a healthy, active life through sport. FUNdamentals uses activity sessions that look at specific sport skills such as, kicking, throwing and catching which can be transferred into a number of various sports and can be used in everyday tasks.
Sign up to learn more about registering for fundatmentals 
Benefits of the Active Start and FUNdamentals Program for participants:
Substantial and improved development of physical, cognitive, and social abilities;
Introduction of positive social experiences through fun play activities alongside peers;
Development of self-esteem and a sense of belonging;
Opportunities to transition into other year-round Special Olympics sport programs, and to continue a lifelong love of sport.
Benefits of the Active Start and FUNdamentals Program for parents/caregivers:
Education for parents/caregivers about the value of sport in the lives of their children;
Education in nutrition, basic motor skills, and the Special Olympics organization;
Opportunities for parents/caregivers to expand their networks and support systems.
Lead Corporate Sponsor
Corporate Sponsors