Special Olympics Northwest Territories recognizes our responsibility to prioritize creating a safe sport environment free of abuse, harassment, or discrimination for all participants, including athletes, coaches, volunteers, officials, and administrators
As part of Special Olympics NWT's commitment to a safe sporting environment, our staff and leadership have completed Safe Sport training.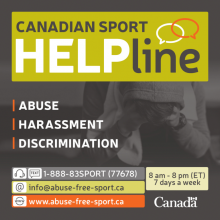 Canadian Safe Sport Helpline
Are you a victim or witness of harassment, abuse, or discrimination in sport? Contact the Canadian Sport Helpline to share your concerns and be referred to the appropriate resources. Thanks to financial support from the Government of Canada, the Canadian Sport Helpline is a service that is free and accessible to all in both official languages.
Open from 8 a.m. to 8 p.m. (ET) 7 days a week, it is anonymous, confidential, and independent.
Call: 1-888-83SPORT (77678)
Email: info@abuse-free-sport.ca
Responsible Coaching Movement
Responsible coaching allows you to support your participants' right to a safe, positive environment. Here are some ways to protect your athletes and yourself both on and off the field of play.
Responsible Coaching Movement Pillars
Rule of Two
WHAT IS THE RULE OF TWO?
The goal of the Rule of Two is to ensure all interactions and communications are open, observable, and justifiable. Its purpose is to protect participants (especially minors) and coaches in potentially vulnerable situations by ensuring more than one adult is present. There may be exceptions in emergency situations. Please click here for more information and resources from the Coaching Association of Canada.