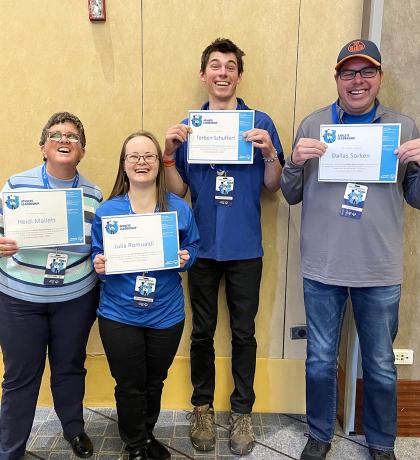 Special Olympics BC Athlete Leadership programs help athletes build skills and confidence to become leaders, mentors, and advocates in their communities and throughout our movement. They go on to shine in leadership roles like public speaking, participating on Local Committees and Athlete Input Councils, and assisting as fundraising and program volunteers. 
New athletes and volunteers are always welcome to get involved with SOBC Athlete Leadership!
Join the SOBC Athlete Leadership Academy
In the SOBC Athlete Leadership Academy, athletes can register for a specific stream that matches their interests. After completing the required number of courses in their stream, athletes will be recognized as program graduates and will receive an Academy diploma and swag! The SOBC Athlete Leadership Academy includes and links all of the courses that SOBC has traditionally offered, and will add new opportunities as determined by athlete interest.
To get involved in upcoming courses, please fill out the SOBC Athlete Leadership Academy commitment form to express your interest! Courses are being planned based on what athlete leaders say they want to take.
Congrats to recent course graduates!
In fall and winter 2022, dedicated athlete leaders completed training for serving on input councils, sharing their stories, and advocating to end bullying. 
Athlete Input Council
Congratulations to the athlete leaders in Prince George, Golden, Elk Valley, Creston, and Kelowna who completed Athlete Input Council training in fall and winter 2022! The Athlete Input Council workshop empowers athletes to serve on committees and share their input to help guide Special Olympics. 
| | |
| --- | --- |
| ATHLETE | LOCAL |
| Sebastian Gylander | Golden |
| Tyler Kamstra | Golden |
| Claire Lemaire | Creston |
| Melissa McIntosh | Elk Valley |
| Michael Haehnel | Elk Valley |
| Darren Pattison | Elk Valley |
| Ryan Courtemanche | Kelowna |
| Barbie Conway | Prince George |
| Darcie Muzychka | Prince George |
| Adrian Rosen | Prince George |
| Adam Spokes | Prince George |
| Marinka VanHage | Prince George |
Athlete Reporters
Congratulations to the amazing Athlete Reporters who completed training in December 2022! The Athlete Reporter course provides training on storytelling and technology skills, so athletes can communicate their perspectives and share the accomplishments of their peers around the province!
| | |
| --- | --- |
| ATHLETE | LOCAL |
| Carmel Hashemi | Surrey |
| Josh Trudell | Kamloops |
| David Johnston | Dawson Creek |
| Claire Lemaire | Creston |
| Sara McDonald | Campbell River |
| Martina Vincent | Campbell River |
| Daniel Gawenda | North Shore |
As part of the training, Athlete Reporters completed insightful homework interviews. Watch their segments  
Wrapping up the 2023 SOBC Games, Athlete Reporter David Johnston talked highlights with Region 8 Chef de Mission Steve Oliver. Watch their interview 
Athlete Reporter Claire Lemaire caught up with SOBC – Creston volunteer (and parent) Corinne Lemaire to preview the Polar Plunge for SOBC! Watch their interview 
Find more Athlete Reporter stories 
Safe Sport Anti-Bullying Workshop
And a big shoutout to the wonderful athlete leaders who completed SOBC's safe sport anti-bullying training last fall! The two-part workshop helps athletes identify and address bullying and harassment. We want to make sure everyone feels they have the tools to recognize and help stop incidences of bullying and harassment in sport and in life. Learn more and see anti-bullying statements by athlete leaders 
Upcoming courses
More training opportunities will be coming up in spring 2023! Please click here to read about all the SOBC Athlete Leadership courses you can choose from, and find the commitment form to get involved!
We sincerely congratulate all athlete leaders on their accomplishments, and thank all the volunteer facilitators and mentors for making these opportunities possible!
Through his participation in Special Olympics Athlete Leadership opportunities, "people respect me, and my confidence has gone way up,"
says athlete Chris Harrington, Athlete Representative on the SOBC – Kelowna Local Committee and Region 2 Representative on the
SOBC Athlete Input Council
. 
Athlete leaders in action
Special Olympics BC athlete leaders can be found sharing their ideas and inspiration in communities all over the province, and making an impact across our country! 
Susan Wang
SOBC – Surrey athlete Susan Wang is the dedicated Region 3 Representative on the SOBC Athlete Input Council.
In September 2022, she took on two important roles: She now serves as Chair of the Canadian Athlete Leadership Council and Athlete Representative on the Special Olympics Canada Board of Directors. Our movement in Canada is fortunate to have her helping lead the way and share athlete perspectives! 
"Special Olympics has definitely changed my life. I wouldn't be where I am today without Special Olympics. One of the most important things is the leadership opportunities. It has given me so much confidence to do everything," Wang says. "My goal is to inspire others and to help athletes become the best they can be."
Torben Schuffert
SOBC – Smithers athlete Torben Schuffert is the hardworking Region 7 Representative on the SOBC Athlete Input Council. He will be part of the Global Athlete Congress at the 2023 Special Olympics World Summer Games in Berlin!
As part of his commitment to the Congress, over the last five months Schuffert has been successfully leading a powerful inclusion project in his community. In Schuffert's "Shine Together" project, he has been connecting with the strong community of artists in his hometown of Smithers, working together to build greater inclusion and understanding of the leadership potential of people with intellectual and developmental disabilities.  
The response in the Smithers arts community has been wonderful. As the Interior News wrote, "Schuffert has recruited music teacher Jon Bjorgan, and art teacher Mark Thibeault to lead and mentor in the workshops. The Smithers Art Gallery is also supporting Schuffert and Thibeault's efforts."
Shine Together led to the creation of a musical band to perform a song about living with IDD, and brought together an art group who created paintings while listening to the song, building powerful bonds between people with intellectual disabilities and local arts mentors. 
Schuffert said that at the Shine Together Art Workshop in January, "Everyone had such a good time. The room was filled with encouragement, laughter and love."
The Smithers Art Gallery hosted an exhibition of the paintings in a powerful inclusive exhibit. Watch their video spotlight on the exhibit 
At a closing celebration for the project on February 26, the Shine Together song saw its public debut!
Watch their wonderful Shine Together video
Heartfelt congratulations to Schuffert and the inclusive, unified community leaders in Smithers!
Matthew Williams
SOBC – Langley athlete Matthew Williams is the dedicated Chair of the SOBC Athlete Input Council, and currently helps lead our movement as a valued member of the SOBC Board of Directors! Read more 
Most recently, Williams served as the outstanding co-emcee of the 2023 SOBC Winter Games Opening Ceremony. We are fortunate to have his insights and example helping lead the movement!
Watch Williams' TEDxVancouver talk
Join our joyful community
Get involved in Athlete Leadership
Make a difference as an SOBC volunteer