Thank you for making a difference as champions of Special Olympics athletes and inclusion!
A look back at your life-changing efforts in 2022
Special Olympics BC athletes and programs are so grateful to have our friends from the Law Enforcement Torch Run always in our corner!
This year Special Olympics BC athletes and volunteers worked hard to reopen in-person sport, youth, and health programs throughout the province, and participate in meaningful competitions in all 18 SOBC sports. It's vital to reopen these opportunities to reconnect athletes with intellectual disabilities with their friends and healthy activities.
We couldn't do it without you!
Let's look back at the many ways you championed Special Olympics athletes and inclusion in 2022!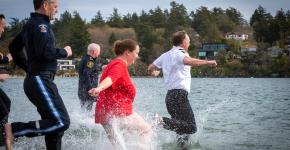 2022 Polar Plunge for Special Olympics BC
From March 5 to 20, 2022, law enforcement members and Special Olympics BC athletes and supporters from all across B.C. came together to take the Plunge, raising over $250,000 for SOBC!
Plungers dove into freezing water, jumped into cold snow, braved icy showers, got blasted by water balloons, faced down fire hoses, and so much more – all for a good cause!
Read more about the 2022 Polar Plunge
Mark your calendars: The Polar Plunge for Special Olympics BC will be back in 2023! Plungers all over the province can join the fun from February 18 to March 4, and in-person Plunges will take place in Vancouver, Victoria, and more. Please see below for more dates and details.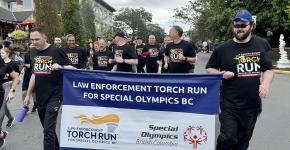 2022 LETR Torch Run
Each year, BC LETR members come together in their communities to raise funds and awareness through run and walk events. They run shoulder to shoulder with SOBC athletes, carrying the Flame of Hope and spreading a message of respect and inclusion for people with intellectual disabilities. 
In June 2022, SOBC athletes and law enforcement members in many communities were finally able to run together again in-person, after two consecutive years of virtual Torch Run events. Many supporters also participated through running and walking in their own communities, enjoying the opportunity to connect with champions from all over the province. Participants had a blast and cheered each other on in support of SOBC athletes and programs!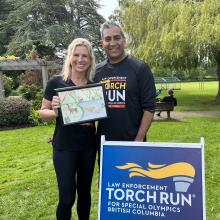 BC Law Enforcement Torch Run Award
2022 saw the creation of the BC Law Enforcement Torch Run Award, which will now be presented annually to a BC LETR member who has demonstrated significant dedication to the movement and Special Olympics BC. Congratulations to the inaugural BC Law Enforcement Torch Run Award Winner, Saanich Police Cst. Lisa Bruschetta! 
Congrats to the 2022 nominees: 
Cst. Josh Brushett, Royal Canadian Mounted Police
Det/Cst. Cam Mackay, Vancouver Police Department
Cst. Jeremy Pearce, Surrey Police Service
Please click here for more information about the BC Law Enforcement Torch Run Award. To nominate someone for the 2023 award, please contact Meg Ishida at mishida@specialolympics.bc.ca.
2022 LETR International Conference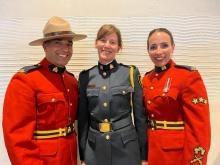 The annual Law Enforcement Torch Run International Conference returned in person for the first time since 2019. Nearly 1,000 LETR members from around the world gathered in Round Rock, Texas, for three days of inspiring, motivational, and educational experiences. Attendees learned how they can continue to support and grow LETR initiatives in their home programs to support Special Olympics athletes in our communities.
"It was genuinely one of the best experiences of my life. It was an eye-opening experience that allowed me to interact with athletes and listen to how they overcome their struggles. I learned many ways in which we can raise money and awareness," said one attendee.
B.C.'s delegates were Deputy Chief Constable Leslie Stevens of the Port Moody Police Department, Ridge Meadows RCMP Staff Sergeant Michelle Luca, and North Vancouver RCMP Constable Azad Vizheh.
Next year's LETR International Conference is being held in Chicago, site of the first-ever Special Olympics Games in 1968! Stay tuned for more information on when and how to apply or reach out to Meg Ishida at mishida@specialolympics.bc.ca.
Challenge Coins
BC LETR Challenge Coins are still available for purchase! Limited quantities remain, so get yours while they last!
BC LETR Executive Council
The BC LETR Executive Council provides guidance and leadership for LETR events and initiatives across British Columbia.
Provincial Director Update
In fall 2022, Richard Lucy stepped down from the SOBC Board of Directors and the BC LETR Provincial Director role, after 15 years of leadership and 30 years of involvement with the movement. Lucy made a difference with his compassionate, insightful leadership while serving Special Olympics BC athletes in a wide range of roles, including stints on the 2009 SOBC Games Organizing Committee and Special Olympics provincial and national team mission staff, as well as through his years of positive leadership with the LETR. Lucy is a deserving member of the SOBC Hall of Fame as a Provincial Builder.
Lucy has been ably succeeded as BC LETR Provincial Director by Port Moody Police Department Deputy Chief Constable Leslie Stevens! Before joining the Port Moody Police in 2020, Stevens had a long and successful career with the Vancouver Police Department, and in 2018 she was seconded to the Criminal Intelligence Service of B.C. and the Yukon as Bureau Director. She also has experience in sport, economics, and banking.
Full list of the BC LETR Executive Council
A look ahead to 2023
Special Olympics BC Winter Games
The 2023 Special Olympics BC Winter Games are coming to Kamloops from February 2 to 4! More than 500 athletes will be step into the spotlight, reconnect with friends, and be celebrated for their abilities. Volunteers are needed for rewarding roles in supporting athletes on their road to success – please spread the word among Kamloops contacts!
The BC LETR will help kick off the event with the 2023 SOBC Games Torch Run Final Leg on February 1, 2023. Stay tuned for details!
Learn more about the 2023 SOBC Winter Games
2023 Polar Plunge
Save the date for next year's Polar Plunge events! More details coming soon.
Vancouver Island, Gyro-Cadboro Park, and Saanich: February 19
Rocky Point Park and Port Moody: February 25
Abbotsford: March 2
Maple Ridge: March 2
Vancouver and Kitsilano Beach: March 4
Learn more about the 2023 Polar Plunge
2023 Torch Run
Stay tuned for upcoming details about the 2023 BC LETR Torch Run! Learn more
Thank you!
Special Olympics BC sincerely thanks you for your impact in 2022, and looks forward to another year of changing lives with you in 2023. Wishing you and yours all happiness and health in the holiday season and throughout 2023!
To learn more about the positive impact of your support, please enjoy Special Olympics BC's 2021-22 Impact Report.
If you have any questions, ideas, or feedback, please contact SOBC Fund Development Coordinator Meg Ishida at mishida@specialolympics.bc.ca.