Thanks to Special Olympics BC's dedicated athletes and volunteers and generous sponsors, donors, and supporters, the 2021-22 sport season saw significant progress on our joyful return to in-person programs, competitions, and events.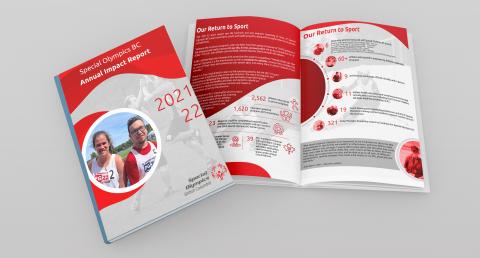 Rebuilding the Movement
All too frequently, our society painfully forgets and isolates people with intellectual disabilities. This was true 54 years ago when Special Olympics began its mission of enriching the lives of athletes with intellectual disabilities and turning the spotlight on their abilities. It is true today, making Special Olympics BC's year-round sport programs, empowering competitions, and inclusive community matter more than ever. 
Your support matters now more than ever. On behalf of the thousands of people around our province whose lives are touched and improved by Special Olympics, we thank you from the bottom of our hearts for your game-changing generosity and kindness.
The COVID-19 pandemic deepened the loneliness, isolation, and negative health impacts experienced by a painful number of Special Olympics BC athletes. It cut off our athletes from the meaningful friendships, caring community, and healthy activity they find in Special Olympics. It cut off volunteers and families from the athletes and friends who make their lives better every time they come together at practices and events.
Thanks to your support, the 2021-22 sport season saw significant progress on the road to rebuilding Special Olympics BC's in-person programs and operations. The dedication of Special Olympics BC athletes, volunteers, families, sponsors, and donors reopened many programs around the province, and brought back meaningful competitions in all of Special Olympics BC's 18 summer and winter sports. 
In 2021-22, we saw the in-person return of about half of the typical number of Special Olympics BC athletes, and about a third of our usual number of volunteers. This is a significant accomplishment given the unique challenges that came before. But we owe it to our athletes, and all of our province's citizens with intellectual disabilities, to reopen every program and opportunity, and reignite our power to create inclusion in all parts of our province. We hope you'll encourage everyone you know to volunteer with Special Olympics BC and change lives, including their own. 
We are so deeply grateful for your involvement with Special Olympics BC. Your gifts make a deep and lasting difference for inclusion of our friends and neighbours with intellectual disabilities who must not be forgotten any more.
Dan Howe
Special Olympics BC President & CEO
Randy Smallwood
SOBC Board of Directors Chair
Wheaton Precious Metals President & CEO
Donna Bilous
SOBC Leadership Council Chair
Matthew Williams
SOBC Athlete Input Council Chair
Your Impact
Please click here to watch more of Daniel's story
Our Return to Sport
The 2021-22 sport season saw the hard-won and very welcome reopening of many of Special Olympics BC's year-round sport, youth, and health programs, along with our joyful return to in-person competitions. 
"Without the in-person programs, when we didn't have them going on because of COVID going on, I felt disappointed really, because it's our life, it's fun, we love to do it. We go to competitions for it," SOBC – Fort St. John athlete Levi told SOBC Athlete Reporter David Johnston this season.
Click here to read more
SOBC Athlete Reporter Miranda Orth wrote that this season's competitions "helped people see that Special Olympics is a fun environment as well as an essential for athletes, because they consider this as part of their lives and connecting with people again and seeing them in person instead of just virtually."
Click here to read more
There is a long road ahead to return to full operating capacity, but the 2021-22 sport season was a significant step in the right direction. The return to programs and competitions delighted the athletes who had badly missed their Special Olympics friends and healthy activities, and started to rebuild our movement's ability to strengthen inclusion and respect in communities all across the province. 
Special Olympics BC's meaningful return to sport would not be possible without the inspiring passion and dedication of our athletes, and the generous support of our vital volunteers, sponsors, donors, and supporters throughout the province.
Watch more highlights from the 2021-22 season
Your Impact
Watch the Siytangco family's story
Watch the 2022 SOBC Awards Ceremony
Learn More
Check out the full 2021-22 Impact Report to meet valued sponsors and donors, find background on our programs and financials, and more!
Find more newsletters and reports
Invite everyone to make their own impact as a Special Olympics volunteer